What's Mine Is Yours
: The Rise of Collaborative Consumption
Rachel Botsman and Roo Rogers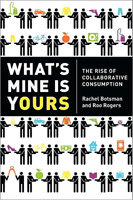 Format:
Hardcover, 304pp.
ISBN:
9780061963544
Publisher:
HarperBusiness
Pub. Date:
September 14, 2010
Average Customer Review:

For Bulk Orders Call: 626-441-2024

Description and Reviews
From
The Publisher:
"Amidst a thousand tirades against the excesses and waste of consumer society,
What's Mine Is Yours
offers us something genuinely new and invigorating: a way out." —Steven Johnson, author of The Invention of Air and The Ghost Map
A groundbreaking and original book, What's Mine is Yours articulates for the first time the roots of "collaborative consumption," Rachel Botsman and Roo Roger's timely new coinage for the technology-based peer communities that are transforming the traditional landscape of business, consumerism, and the way we live. Readers captivated by Chris Anderson's The Long Tail, Van Jones' The Green Collar Economy or Malcolm Gladwell's The Tipping Point will be wowed by this landmark contribution to the evolving ecology of commerce and sustainability.
What's Mine Is Yours
is about Collaborative Consumption, a new, emerging economy made possible by online social networks and fueled by increasing cost consciousness and environmental necessity. Collaborative Consumption occurs when people participate in organized sharing, bartering, trading, renting, swapping, and collectives to get the same pleasures of ownership with reduced personal cost and burden, and lower environmental impact.
The book addresses
three growing models of Collaborative Consumption: Product Service Systems, Communal Economies, and Redistribution Markets
. The first, Product Service Systems, reflects the increasing number of people from all different backgrounds and across ages who are buying into the idea of using the service of the product-what it does for them-without owning it. Examples include Zipcar and Ziploc, and these companies are disrupting traditional industries based on models of individual ownership. Second, in what the authors define as Communal Economies, there is a growing realization that as individual consumers, we have relatively little in the way of bargaining power with corporations. A crowd of consumers, however, introduces a different, empowering dynamic. Online networks are bringing people together again and making them more willing to leverage the proverbial power of numbers. Examples of this second category include Etsy, an online market for handcrafts, or the social lending marketplace Zopa. The third model is Redistribution Markets, exemplified by worldwide networks such as Freecycle and Ebay as well as emerging forms of modern day bartering and "swap trading" such as Zwaggle, Swaptree, and Zunafish. Social networks facilitate consumer-to-consumer marketplaces that redistribute goods from where they are not needed to somewhere or someone where they are. This business model encourages reusing/reselling of old items rather them throwing them out, thereby reducing the waste and carbon emissions that go along with new production.
What's Mine Is Yours
describes how these three models come together to form a new economy of more sustainable consumerism. Collaborative Consumption started as a trend in conjunction with the emergence of shared collective content/information sites such as Wikipedia and Flickr and with the recent economic troubles and increasing environmental awareness, it is growing into an international movement. The authors predict it will be a fully fledged economy within the next five years.
In this book the authors travel among the quiet revolutionaries (consumers and companies) from all around the world. They explore how businesses will both prosper and fail in this environment, and, in particular, they examine how it has the potential to help create the mass sustainable change in consumer behaviors this planet so desperately needs. The authors themselves are environmentalists, but they are also entrepreneurs, parents, and optimistic citizens. This is a good news book about long-term positive change.

Reviews
"Rachel Botsman and Roo Rogers have offered a convincing, charming and in every sense collaborative account of how the new networks that have disrupted our lives are also likely to alter them, and entirely for our good."
—Adam Gopnik, author of Paris to the Moon and Through the Children's Gate
"Part cultural critique and part practical guide to the fledgling collaborative consumption market, the book provides a wealth of information for consumers looking to redefine their relationships with both the things they use and the communities they live in."
—Publishers Weekly
"What can the next wave of collaborative marketplaces look like? Botsman and Rogers answer this question in a highly readable and persuasive way. Anyone interested in the business opportunities and social power of collaboration should consider reading this book."
—Tony Hsieh, author of Delivering Happiness and CEO of Zappos.com, Inc.
"People are normally trustworthy and generous, and the Internet brings the good out far more than the bad. We're seeing an explosion of modest businesses where people help each other out via the Net, and What's Mine is Yours tells you what's going on, and inspires more of the same."
—Craig Newmark, founder of craigslist

About the Authors
Rachel Botsman
writes, consults, and speaks on the power of collaboration and sharing, and on how it can transform the way we live. She received her BFA (with honors) from the University of Oxford and undertook her postgraduate studies at Harvard University. She has consulted with businesses around the world on brand and innovation strategy, and was a former director at the William J. Clinton Foundation. Rachel has lived and worked in the UK, the USA, Asia, and Australia.
Roo Rogers
is an entrepreneur and the president of Redscout Ventures, a venture company in New York. He has served as the cofounding partner of OZOlab and the former CEO of OZOcar, and his other endeavors include Drive Thru Pictures, UNITY TV, and Wenite. He received his BA from Columbia College, and his Masters in Economic Development from University College London. He lives in New York City.

Table of Contents
| | | |
| --- | --- | --- |
| | | |
| | Introduction: What's Mine Is Yours | |
| | | |
| | PART 1 CONTEXT | |
| 1 | Enough Is Enough | 3 |
| 2 | All-Consuming | 19 |
| 3 | From Generation Me to Generation We | 41 |
| | | |
| | PART 2 GROUNDSWELL | |
| 4 | The Rise of Collaborative Consumption | 67 |
| 5 | Better Than Ownership | 97 |
| 6 | What Goes Around Comes Around | 123 |
| 7 | We Are All in This Together | 153 |
| | | |
| | PART 3 IMPLICATIONS | |
| 8 | Collaborative Design | 185 |
| 9 | Community Is the Brand | 199 |
| 10 | The Evolution of Collaborative Consumption | 211 |
| | | |
| | Acknowledgments | 227 |
| | Interviewees | 231 |
| | Collaborative Consumption Hub | 235 |
| | Selected Bibliography | 237 |
| | Notes | 243 |
| | Index | 269 |

Find Items On Similar Subjects

The Mesh
: Why the Future of Business Is Sharing