The Power of the Other
: The Startling Effect Other People Have on You, from the Boardroom to the Bedroom and Beyond—and What to do About It
Henry Cloud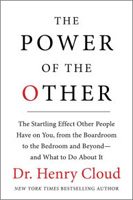 Format:
Hardcover, 256pp.
ISBN:
9780061777141
Publisher:
HarperBusiness
Publication Date:
May 3, 2016
Average Customer Review:

For Bulk Orders Call: 626-441-2024

Description and Reviews
From
The Publisher:
An expert on the psychology of leadership and the bestselling author of
Integrity
,
Necessary Endings
, and
Boundaries For Leaders
identifies the critical ingredient for personal and professional wellbeing.
Most leadership coaching focuses on helping leaders build their skills and knowledge and close performance gaps. These are necessary, but not sufficient. Using evidence from neuroscience and his work with leaders, Dr. Henry Cloud shows that the best performers draw on another vital resource: personal and professional relationships that fuel growth and help them surpass current limits.
Popular wisdom suggests that we should not allow others to have power over us, but the reality is that they do, for better or for worse. Consider the boss who diminishes you through cutting remarks versus one who challenges you to get better. Or the colleague who always seeks the limelight versus the one who gives you the confidence to finish a difficult project. Or the spouse who is honest and supportive versus the one who resents your success. No matter how talented, intelligent, or experienced, the greatest leaders share one commonality: the power of the others in their lives.
Combining engaging case studies, persuasive findings from cutting-edge brain research, and examples from his consulting practice, Dr. Cloud argues that whether you're a Navy SEAL or a corporate executive, outstanding performance depends on having the right kind of connections to fuel personal growth and minimize toxic associations and their effects. Presenting a dynamic model of the impact these different kinds of connections produce, Dr. Cloud shows readers how to get more from themselves by drawing on the strength and expertise of others. You don't have a choice whether or not others have power in your life, but you can choose what kinds of relationships you want.

Reviews
"Henry Cloud has done it again! The Power of the Other reminds us that our successes and failures often come through others. Those who have high relational IQs are always the most successful, and Henry reminds us to surround ourselves with the right people if we want positive results."
—Dave Ramsey, author of six national bestsellers
"Henry Cloud understands the connections among character, relationships, and leadership like no one else I've ever known. Really. His writings are as wise and insightful as they are readable, and The Power of the Other is another wonderful example."
—Patrick Lencioni, bestselling author of The Five Dysfunctions of a Team
"Henry's deep understanding of people, growth, and performance is unique and impactful. This new book brings to light the power of connection and the primacy of relationships, in personal and professional development. For everyone who wants to thrive in all parts of life, this book is a must.
"—Scott Beck, founder of Ancestry.com
"Once again, Henry has changed the conversation. Raw talent and willpower go a long way. Yet without healthy relationships, we leave most of their value on the table. But this isn't a book just about relationships—it shows how to knock down a leader's performance barriers. Henry's use of neuroscience makes his logic and storytelling even more compelling."
—Marten Hoekstra, former CEO of UBS
"Dr. Cloud's latest book brings the heart and the mind together, showing that constructive relationships support us in making our own lives and the lives of others better. There is no singular success; we all need to work with 'others' to become our best selves. The Power of the Other shows you where to look."
—Maria Shriver, journalist, founder of Shriver Media, the Women's Alzheimer's Challenge, and A Woman's Nation

About the Author
Henry Cloud
is an acclaimed leadership expert, psychologist, and New York Times bestselling author whose books have sold over 10 million copies. In 2014, Success magazine named Dr. Cloud one of the top 25 most influential leaders in personal growth and development. He graduated from Southern Methodist University with a BS in psychology and completed his PhD in clinical psychology at Biola University.