Practically Radical
: Not-So-Crazy Ways to Transform Your Company, Shake Up Your Industry, and Challenge Yourself
William C. Taylor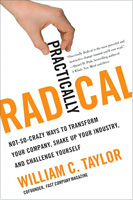 Format:
Paperback, 320pp.
ISBN:
9780061734687
Publisher:
William Morrow
Pub. Date:
July 31, 2012
Average Customer Review:


For Bulk Orders Call: 626-441-2024

Description and Reviews
From
The Publisher:
Practically Radical
is a manifesto for change and a manual for making it happen—in an era when change is the name of the game.
Businesspeople everywhere are engaging in a dramatic "rethink" of how they lead, work, and get results. In an age of fierce competition and stubborn recession, the status quo just doesn't cut it. But how do you break new ground when there is so much pressure to do things the same way as everyone else? Using his years of experience and thought leadership in the business world, the cofounder and founding editor of one of the world's most admired business magazines,
Fast Company
, offers radical ideas and practical advice to help you fix what's wrong with your organization, launch new initiatives with the best chance to succeed, and rethink the logic of leadership itself.
Practically Radical
goes deep inside twenty-five for-profit companies and nonprofit organizations to find out how they've made remarkable strides in tough circumstances. They include IBM, Zappos, Swatch, the Girl Scouts, Interpol, big-city hospitals, fast-growing banks, and high-flying airlines. These organizations have answered the make-or-break questions facing leaders in every field:
Do you see opportunities the competition doesn't see? The most successful organizations embrace one-of-a-kind ideas in a world filled with me-too thinking.
Do you have new ideas about where to look for new ideas? Practices that are routine in one field can be revolutionary when they migrate to another field.
Are you the most of anything? Companies used to be comfortable in the middle of the road. Today, the middle of the road is the road to ruin.
Are you getting the best contributions from the most people? It may be lonely at the top, but change is not a game best played by loners.

Reviews
"
Practically Radical
is the most powerful and instructive change manual you'll ever read. It will persuade and inspire you to change your business, your work, and maybe your life."
—Daniel H. Pink, bestselling author of A Whole New Mind and Drive
"We all understand the need for change and transformation in the business world. Rarely do we address the implications of implementing change in organizations.
Practically Radical
takes on this challenge as a handbook for successful transformation. A great tutorial for implementing your change agenda."
—Anne Mulchay, former Chairman and CEO, Xerox Corporation
"
Practically Radical
is packed with big ideas, hands-on advice, and inspiring case studies to help you succeed. It's a game plan for entrepreneurs and executives who want to change the world for the better."
—Guy Kawasaki, co-founder of Alltop.com and former Apple chief evangelist

About the Author
William C. Taylor
is a cofounder of Fast Company and coauthor of the national bestseller Mavericks at Work: Why the Most Original Minds in Business Win (with Polly LaBarre). He has published numerous essays and CEO interviews in the Harvard Business Review, and is a featured blogger for HBR. He's written management columns for the New York Times and for The Guardian (London). A graduate of Princeton University and the MIT Sloan School of Management, he lives in Wellesley, Massachusetts, with his wife and two daughters.