Fascinate
: Your 7 Triggers to Persuasion and Captivation
Sally Hogshead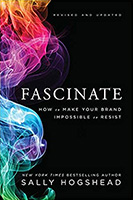 Format:
Hardcover, 288pp.
ISBN:
9780061714702
Publisher:
HarperBusiness
Pub. Date:
February 9, 2010
Average Customer Review:

For Bulk Orders Call: 626-441-2024

Description and Reviews
From
The Publisher:
What triggers fascination, and how do companies, people, and ideas put those triggers to use?
Why are you captivated by some people but not by others? Why do you recall some brands yet forget the rest? In a distracted, overcrowded world, how do certain leaders, friends, and family members convince you to change your behavior? Fascination: the most powerful way to influence decision making. It's more persuasive than marketing, advertising, or any other form of communication. And it all starts with seven universal triggers: lust, mystique, alarm, prestige, power, vice, and trust.
Fascination plays a role in every type of decision making, from the brands you choose to the songs you remember, from the person you marry to the employees you hire. And by activating the right triggers, you can make anything become fascinating.
To explore and explain fascination's irresistible influence, Sally Hogshead looks beyond marketing, delving into behavioral and social studies, historical precedents, neurobiology and evolutionary anthropology, as well as conducting in-depth interviews and a national study of a thousand consumers, to emerge with deeply rooted patterns for why, and how, we become captivated.
Hogshead reveals why the Salem witch trials began with the same fixations as those in
Sex and the City
. How Olympic athletes are subject to obsessions similar to those of fetishists. How a 1636 frenzy over Dutch tulip bulbs perfectly mirrors the 2006 real estate bubble. And why a billion-dollar "Just Say No" program actually increased drug use among teens, by activating the same "forbidden fruit" syndrome as a Victoria's Secret catalog.
Whether you realize it or not, you're already using the seven triggers. The question is, are you using the right triggers, in the right way, to get your desired result? This book will show you.

Reviews
"Can you dissect 'fascination'? Sally Hogshead says, 'Yes.' Fascination is arguably the most powerful of product attachments-and this pioneering book helps us approach the word and the concept in a thoughtful and also practical manner."
—Tom Peters, author of In Search of Excellence
"Fascinate is a riveting journey through the forces of fascination-how it irresistibly shapes our ideas, opinions, and relationships-and how to wield it to your advantage."
—Alan Webber, author of Rules of Thumb
"Whenever your message hasn't reached a customer, peer over at Sally Hogshead's collection of stories and directives, replete with more illuminating, original, and doable ideas than you can handle in a lifetime. Okay, two lifetimes."
—Richard Laermer, author of Forecast 2011 and Full Frontal PR

About the Author
Sally Hogshead
helps world-class businesses develop messages that influence and persuade consumers, partners, and employees. Starting out as one of the most award-winning advertising writers in the country, she is today a world-renowned brand consultant and speaker, leading keynotes for companies such as Starbucks and Microsoft as well as innovation workshops. As a creative director, she develops fascinating ideas for both Fortune 500 companies and start-ups. Hogshead and her work have been featured in the New York Times and on the Today show, CBS, ABC, and MSNBC.

Table of Contents
Preface: Witchcraft, Green Peas, and Sigmund Freud
Introduction: What Is "Fascination," Exactly?
Fascinate: Your 7 triggers to Persuasion and Captivation
PART 1: Fascinate or Fail
•
The Big O: Speaking of Fascination, Let's Start With Sex, Shall We?
•
Your Fascinating Face: Why We Were Born Knowing Exactly How to Persuade
•
Fascination and the Media: Trends Driving the Need For a New Form of Persuasion
•
Gold Hallmarks of a Fascinating Message: How Do You Evaluate Whether Something Is Fascinating
•
How Fascinating are You? The "F Score" Personality Test
PART 2: The Seven Fascination Triggers
•
LUST: Why We're Seduced by the Anticipation of Pleasure
•
MYSTIQUE: Why We're Intrigued by Unanswered Questions
•
ALARM: Why We Take Action at the Threat of Negative Consequences
•
PRESTIGE: Why We Fixate on Symbols of Rank and Respect
•
POWER: Why We Focus on the People and Things That Control Us
•
VICE: Why We're Tempted by "Forbidden Fruit"
•
TRUST: Why We're Loyal to Reliable Options
PART 3: The Fascination Plan of Attack

How to Make Your Own Messages More Fascinating
•
Stage 1: Evaluation: How Fascinating Are Your Company and Message?
•
Stage 2: Development: Create and Heighten Fascination
•
Stage 3: Execution: Bringing Your Fascination to Life
Appendix: The Kelton Fascination Study
Author's Note
Fascination At-A-Glance
Index