The Peter Principle
: Why Things Always Go Wrong
Fortieth Anniversary Edition
Laurence J. Peter and Raymond Hull
Foreword by Robert Sutton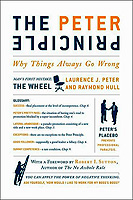 Format:
Paperback, 192pp.
ISBN:
9780062092069
Publisher:
Harper Business
Pub. Date:
October 25, 2011
Average Customer Review:

For Bulk Orders Call: 626-441-2024

Description and Reviews
From
The Publisher:
This book caused a storm when first published in 1969, battering up the bestseller list to #1, charming readers from Topeka to Timbuktu, and finally, brilliantly, blessedly giving the world an answer to a question that nags us all: Why is incompetence so maddeningly rampant and so vexingly triumphant? The book and the phrase it defined are now considered comedic-yet-classic cornerstones of organizational thought, and in honor of the book's fortieth anniversary, Robert I. Sutton has written a foreword introducing the book to a new generation of readers.
The Peter Principle
, the eponymous law Laurence Peter coined, explains that "in a hierarchy, every employee tends to rise to his level of incompetence." Everyone—from the office intern to the CEO, from the low-level civil servant to a nation's president—will inevitably rise to his or her level of incompetence, if it hasn't happened already. Dr. Peter's glorious revelation explains why incompetence is at the root of everything we endeavor to do—why schools bestow ignorance, why governments condone anarchy, why courts dispense injustice, why prosperity causes unhappiness, and why utopian plans never generate utopias.
With the wit of James Thurber or Mark Twain, the psychological and anthropological acuity of Sigmund Freud or Margaret Mead, and the theoretical impact of Isaac Newton or Copernicus, Dr. Laurence Peter and Raymond Hull's brilliant book explains how incompetence and its accompanying symptoms, syndromes, and remedies define the world and the work we do in it.
Having formulated the Principle, I discovered that I had inadvertently founded a new science, hierarchiology, the study of hierarchies. The term hierarchy was originally used to describe the system of church government by priests graded into ranks. The contemporary meaning includes any organization whose members or employees are arranged in order of rank, grade or class. Hierarchiology, although a relatively recent discipline, appears to have great applicability to the fields of public and private administration.

Reviews
"Ruefully delightful ... excruciatingly applicable--and fun to read"
—Playboy
"The Peter Principle has cosmic implications."
—The New York Times
"[The Peter Principle] has struck a throbbing public nerve... a minor cultural phenomenon and its title phrase, like Parkinson's Law, is certain to enter the language."
—Life magazine

About the Authors
Laurence J. Peter
was born in Canada and received an EdD from Washington State University. A teacher, counselor, school psychologist, prison instructor, consultant, and university professor, he wrote articles for many journals and magazines as well as several books, most notably The Peter Principle. He died in 1990.
Raymond Hull
wrote many plays as well as articles for Punch, Macleans, and Esquire. He died in 1985.
Robert I. Sutton
is professor of management science and engineering in the Stanford Engineering School, where he is codirector of the Center for Work, Technology, and Organization, an active researcher and cofounder in the Stanford Technology Ventures Program, and a cofounder and active member of the new multidisciplinary "d.school." Sutton is also an IDEO Fellow and a professor of organizational behavior, by courtesy, at Stanford Graduate School of Business. He is also the author of many books, including the internationally bestselling The No Asshole Rule.