The Soul of a Leader
: Character, Conviction, and Ten Lessons in Political Greatness
Waller R. Newell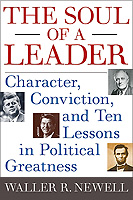 Format:
Hardcover, 352pp.
ISBN:
9780061238543
Publisher:
Harper
Pub. Date:
January 6, 2009
Average Customer Review:

For Bulk Orders Call: 626-441-2024

Description and Reviews
From
The Publisher:
What are we looking for in a leader?
Has the meaning of leadership changed?
Can history provide guidance for the leaders of a rising generation?
What defines the soul of a leader?
In
The Soul of a Leader
, political scientist and cultural commentator Waller R. Newell offers a fascinating perspective on the role of leadership in American life today. From the birth of democracy in Periclean Athens to the Founding Fathers' view of statesmanship, from the experiences of Abraham Lincoln to those of modern presidents, this far-reaching and provocative new book explores the many and diverse elements of good statesmanhip, including the timeless qualities all good leaders share. As Newell plumbs the depths of history, he illuminates the moral, psychological, and intellectual resources we inherit from the traditions of the West—traditions steeped in the experience and reflection on statecraft from ancient times onward—and offers a compass for the challenges America's next generation of leaders will face.
In this engaging blend of character portraiture, historical perspective, and contemporary political insight, Newell proposes a bold new perspective on the evolution of the modern American presidency, from Franklin Roosevelt to George W. Bush. He steps back in time to evaluate the clashing models of Lincoln and Robert E. Lee, as they captured the struggle for the soul of the American Republic. And, in an essay of masterful historical reach, he contemplates the roots of modern leadership in the story of what he calls "the West's first superpower conflict"—the epic battle between Athens and Sparta, with its echoes of both Vietnam and Iraq. Finally, he draws from these stories ten lessons in political greatness—lessons the next American president will be wise to heed.

Reviews
"Waller Newell's fine book shows the love of honor at work in democratic times, when honor is disguised, diminished or eclipsed. Yet where is greatness without honor, and who can live without some share of greatness?"
—Harvey Mansfield, Professor of Government Harvard University

About the Author
Waller R. Newell
is a professor of political science and philosophy at Carleton University. A member of Ronald Reagan's presidential transition team, he is a longtime political and cultural commentator, and the author of previous books, including The Code of Man and What Is a Man?: 3,000 Years of Wisdom on the Art of Manly Virtue. A contributor to the Weekly Standard and other publications, he has been a fellow at the Woodrow Wilson International Center for Scholars in Washington, D.C., and a John Adams Fellow at the Institute of United States Studies at the University of London.

Table of Contents
| | | |
| --- | --- | --- |
| | | |
| | Introduction What Are We Looking for in a Leader? | 1 |
| | | |
| I | A Generation Bids Farewell: The Saga of the Modern American Presidency | 37 |
| | The Titans: Winston Churchill and Franklin Delano Roosevelt | 44 |
| | Passing the Torch: John Fitzgerald Kennedy and Lyndon Baines Johnson | 58 |
| | The President as Enigma: Richard M. Nixon | 69 |
| | The President as Penitent: Jimmy Carter | 78 |
| | New Day in America: Ronald Reagan and the Evolution of a Statesman | 85 |
| | Why Was Reagan So Successful? | 89 |
| | Reagan's Foreign Policy | 104 |
| | The Uncertain Successor: George H. W Bush | 107 |
| | Return from the Wilderness: Bill Clinton | 111 |
| | Fortunate Son? George W. Bush and the End of a Saga | 119 |
| | The Presidential Algorithm | 125 |
| | | |
| II | Democracy and Empire: Lessons in Leadership, from Napoleon to Lincoln | 129 |
| | The Tribe of the Eagle: Political Honor in a Democracy | 136 |
| | Leadership Ancient and Modern: The Dilemmas of the Founding Fathers | 149 |
| | Abraham Lincoln and the Soul of a Leader | 162 |
| | Lincoln's Political Principles | 170 |
| | The Great Antagonist: Robert E. Lee | 186 |
| | The Inner Lincoln | 196 |
| | A World Imperial Republic? | 206 |
| | | |
| III | The First Democracy: Pericles, Athens, and the Challenge of Freedom | 211 |
| | The Two Superpowers: Athens and Sparta | 228 |
| | The Proxy War: Corinth Versus Corcyra | 232 |
| | The Conference at Sparta and the Widening Conflict | 238 |
| | The History of the Cold War | 250 |
| | Pericles' Funeral Oration and the Plague | 256 |
| | Dealing with Allies: The Revolt of Mitylene | 268 |
| | The Human Equivalent of the Plague: Civil War in Corcyra | 273 |
| | Nemesis: The Melian Dialogue and the Sicilian Expedition | 276 |
| | Back to the Future: Where Do We Go from Here? | 302 |
| | | |
| | Conclusion: The TenSecrets of Leadership | 311 |
| | | |
| | Index | 329 |

Find Items On Similar Subjects

A. Lincoln
: A Biography