b>Revolt in the Boardroom: The New Rules of Power in Corporate America
Alan Murray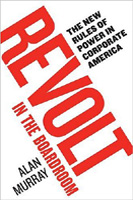 Format:
Hardcover, 272pp.
ISBN:
9780060882471
Publisher:
Collins
Pub. Date:
May 8, 2007
Average Customer Review:

For Bulk Orders Call: 626-441-2024

Description and Reviews
From
The Publisher:
Throughout the 20th century, American corporations were governed by autocratic, almost unaccountable chief executives. Their word was law and the only check on their power was a board of directors composed of their friends and allies.
Then, in a stunning reversal, a momentous series of firings deposed the heads of some of the world's best-known companies: AIG, Morgan Stanley, Boeing, Hewlett-Packard and Pfizer, just to name a few. Formerly unchallenged CEOs found themselves under fire, often from their own handpicked boards. The number of deposed executives is astonishing. In 2004, the leaders of 600 companies were asked to leave. That number more than doubled in 2005 and reached 1,400 companies in 2006.
Flexing new muscles, directors are assuming new and unfamiliar responsibilities. In Revolt in the Boardroom, Alan Murray reveals the inner workings of the new seat of power. Using the access afforded to him by his influential Wall Street Journal column, Murray tells the story of three seminal board revolts—the now-famous Hewlett-Packard drama, the ousting of Boeing's Harry Stonecipher and the end of the reign one of the world's most autocratic executives, Hank Greenberg at AIG.
Murray goes further to chart the history of the corporation, the rise of governance and the effects of the new power gained by outside institutions like hedge funds and interest groups. Through it all, Murray shows how the job of chief executive has rapidly and permanently changed. Leaders like A. G. Lafley and Jeff Immelt govern instead of rule, build alliances and support instead of dictating direction and pay careful attention to a broader range of stakeholders than ever before.
Revolt in the Boardroom
is the first look at the new world of corporate power and the last word on the transformational events of the last two years.

About the Author
Alan Murray
is executive editor, online, for the Wall Street Journal, and has editorial responsibility for WSJ.com, MarketWatch, and the Wall Street Journal's books, television, and conference businesses. He is the author of Showdown at Gucci Gulch and The Wealth of Choices.

Find Items On Similar Subjects

The Future of Management