Nixon and Kissinger
: Partners in Power
Robert Dallek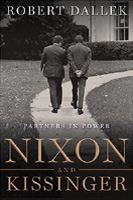 Format:
Paperback, 752pp.
ISBN:
9780060722319
Publisher:
Harper Perennial
Pub. Date:
October 30, 2007
Average Customer Review:

For Bulk Orders Call: 626-441-2024

Description and Reviews
From
The Publisher:
With the publication of his magisterial biography of
John F. Kennedy, An Unfinished Life
, Robert Dallek cemented his reputation as one of the greatest historians of our time. Now, in this epic joint biography, he offers a provocative, groundbreaking portrait of a pair of outsize leaders whose unlikely partnership dominated the world stage and changed the course of history.
More than thirty years after working side-by-side in the White House, Richard Nixon and Henry Kissinger remain two of the most compelling, contradictory, and powerful men in America in the second half of the twentieth century. While their personalities could hardly have seemed more different, they were drawn together by the same magnetic force. Both were largely self-made men, brimming with ambition, driven by their own inner demons, and often ruthless in pursuit of their goals. At the height of their power, the collaboration and rivalry between them led to a sweeping series of policies that would leave a defining mark on the Nixon presidency.
Tapping into a wealth of recently declassified archives, Robert Dallek uncovers fascinating details about Nixon and Kissinger's tumultuous personal relationship and the extent to which they struggled to outdo each other in the reach for achievements in foreign affairs. Dallek also brilliantly analyzes their dealings with power brokers at home and abroad—including the nightmare of Vietnam, the unprecedented opening to China, détente with the Soviet Union, the Yom Kippur War in the Middle East, the disastrous overthrow of Allende in Chile, and growing tensions between India and Pakistan—while recognizing how both men were continually plotting to distract the American public's attention from the growing scandal of Watergate. With unprecedented detail, Dallek reveals Nixon's erratic behavior during Watergate and the extent to which Kissinger was complicit in trying to help Nixon use national security to prevent his impeachment or resignation.
Illuminating, authoritative, revelatory, and utterly engrossing, Nixon and Kissinger provides a startling new picture of the immense power and sway these two men held in changing world history.

Reviews
Starred Review. Bestselling author Dallek (
An Unfinished Life: John F. Kennedy
) delivers what will quickly become recognized as a classic of modern history: the definitive analysis of Richard Nixon and Henry Kissinger's complex, often troubled partnership in running American foreign policy from January 1969 through August 1974. Dallek has had unprecedented access to major new resources, including transcriptions (20,000 pages) of Kissinger's telephone conversations as secretary of state, unreleased audio files of key Nixon telephone conversations and Oval Office discussions, and previously unexamined documents from the archives of Nixon, Kissinger (who served first as national security adviser, then as secretary of state) and White House hands Alexander Haig and H.R. Haldeman. Dallek's eloquent portrait of power depicts two men who were remarkably alike in important ways. Both harbored ravenous personal ambitions. Both suffered from (and operated out of) profound insecurities and low self-esteem. Both were deeply resentful (to the point of paranoia) of criticisms and challenges. Digging deep into the various archives, Dallek artfully fills in the back stories behind such debacles as the pair's policies in Vietnam, Cambodia and the Middle East, as well as such triumphs as the opening to China. In what many will consider the book's darkest moment, Dallek reveals for the first time the discussions and strategic thinking that led to the U.S.-orchestrated coup d'état against Chile's democratically elected president Salvador Allende in September of 1973. As he did with his Kennedy biography, Dallek finds important new material that will revise our thinking about a president and the man the author terms "a kind of co-president." 16 pages of b&w photos. (May 1)
—Publishers Weekly, Copyright © Reed Business Information, a division of Reed Elsevier Inc. All rights reserved.

About the Author
Robert Dallek
is the author of the number one bestseller
An Unfinished Life: John F. Kennedy
, 1917-1963, among other books. His writing has appeared in
The Atlantic Monthly, The New York Times
, and
The Washington Post
. He is an elected fellow of the American Academy of Arts and Sciences and of the Society of American Historians, for which he served as president in 2004-2005. He lives in Washington, D.C.

Find Items On Similar Subjects

Nixon and Mao
: The Week That Changed the World