Principle-Centered Leadership
: Strategies for Personal and Professional Effectiveness
Stephen R. Covey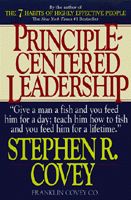 Format:
Paperback, 335pp.
ISBN:
9780671792800
Publisher:
Fireside
Pub. Date:
October 1992
Average Customer Review:

For Bulk Orders Call: 626-441-2024

Description and Reviews
From
The Publisher:
How do we as individuals and organizations survive and thrive amid tremendous change? Why are efforts to improve falling so short in real results despite the millions of dollars in time, capital, and human effort being spent on them? How do we unleash the creativity, talent, and energy within ourselves and others in the midst of pressure? Is it realistic to believe that balance among personal, family, and professional life is possible? Stephen R. Covey demonstrates that the answer to these and other dilemmas is
Principle-Centered Leadership
, a long-term, inside-out approach to developing people and organizations. The key to dealing with the challenges that face us today is the recognition of a principle-centered core within both ourselves and our organizations. Dr. Covey offers insights and guidelines that can help you apply these principles both at work and at home - leading not just to a new understanding of how to increase quality and productivity, but also to a new appreciation of the importance of building personal and professional relationships in order to enjoy a more balanced, more rewarding, more effective life.

From
Library Journal:
The great "angst'' of life has seemingly gripped us all, and there seems to be no limit to the number of writers offering answers to the great perplexities of life. Covey, however, is the North Star in this field. Following his successful
Seven Habits of Highly Effective People
(S. & S., 1989), Covey now responds to the particular challenges of business leaders by applying his natural laws, or principles, of life to organizations. Covey explains these laws (security, guidance, wisdom, and power), and discusses how seven-habits practice and focus on these principles will result in personal and organizational transformation. He reminds us that personal and organizational success is hard work, requires unwavering commitment and long-term perspective, and is achievable only if we are prepared for a complete paradigm shift in our perspective. Without hesitation, strongly recommended for all management collections. óDale Farris, Groves, Tex.

About the Author
Stephen R. Covey
is a renowned authority on leadership, a family expert, teacher, organizational consultant, and vice chairman of FranklinCovey Co. The author of several acclaimed books, he has also received numerous honors and awards, including being named one of Time magazine's twenty-five most influential Americans. Covey lives with his wife, Sandra, and their family in the Rocky Mountains of Utah.

Table of Contents
Preface: A Principle-Centered Approach ..... 13

Section 1: PERSONAL AND INTERPERSONAL EFFECTIVENESS

Introduction to Section 1 ..... 29
Chapter I Characteristics of Principle-Centered Leaders ..... 33
Chapter 2 Seven Habits Revisited ..... 40
Chapter 3 Three Resolutions ..... 48
Chapter 4 Primary Greatness ..... 57
Chapter 5 A Break with the Past ..... 67
Chapter 6 Six Days of Creation ..... 79
Chapter 7 Seven Deadly Sins ..... 87
Chapter 8 Moral Compassing ..... 94
Chapter 9 Principle-Centered Power ..... 101
Chapter 10 Clearing Communication Lines ..... 109
Chapter 11 Thirty Methods of Influence ..... 119
Chapter 12 Eight Ways to Enrich Marriage and Family Relationships 130
Chapter 13 Making Champions of Your Children ..... 144

SECTION 2: MANAGERIAL AND ORGANIZATIONAL DEVELOPMENT

Introduction to Section 2 ..... 153
Chapter 14 Abundance Managers ..... 157
Chapter 15 Seven Chronic Problems ..... 163
Chapter 16 Shifting Your Management Paradigm ..... 173
Chapter 17 Advantages of the PCL Paradigm ..... 181
Chapter 18 Six Conditions of Empowerment ..... 190
Chapter 19 Managing Expectations ..... 202
Chapter 20 Organizational Control Versus Self-Supervision ..... 210
Chapter 21 Involving People in the Problem ..... 217
Chapter 22 Using Stakeholder Information Systems ..... 224
Chapter 23 Completed Staff Work ..... 236
Chapter 24 Manage from the Left, Lead from the Right ..... 244
Chapter 25 Principles of Total Quality ..... 250
Chapter 26 Total Quality Leadership ..... 261
Chapter 27 Seven Habits and Deming's 14 Points ..... 267
Chapter 28 Transforming a Swamp into an Oasis ..... 278
Chapter 29 Corporate Constitutions ..... 288
Chapter 30 Universal Mission Statement ..... 295
Chapter 31 Principle-Centered Learning Environments ..... 302

Epilogue: Fishing the Stream ..... 313

A Personal Note ..... 323

Acknowledgments ..... 325

Index ..... 327

Find Items On Similar Subjects

The 7 Habits of Highly Effective People

The 8th Habit
: From Effectiveness to Greatness