The Leader's Voice
: How your communication can inspire and get results!
Boyd Clarke and Ron Crossland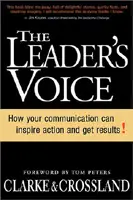 Format:
Hardcover, 169pp.
ISBN:
9781590790168
Publisher:
SelectBooks
Pub. Date:
July 2002
Average Customer Review:

For Bulk Orders Call: 626-441-2024

Description and Reviews
From
The Publisher:
In this provocative and instructive book,
The Leader's Voice: How your communication can inspire action and get results!
, business executives and others can acquire the much-needed skills effective leaders use to manage change in turbulent times.
"To say language is everything to a leader is no understatement. It's a fact," says Tom Peters, America's Number One business guru. Clarke and Crossland, executives at tompeterscompany, show how others can use leadership principles to discover the power in their voice. The authors define the core principles of effective leadership communication. In a volatile business climate like today's, the ability to communicate authentically and powerfully is the crucial leadership competence. Unfortunately, the complexity of the current workplace has muted the voices of many leaders.
Ever wonder how John F. Kennedy, Margaret Thatcher and Martin Luther King, Jr. commanded through communication? Read this book and apply the principles. You'll discover the power in your voice!
The Leader's Voice
is backed up by twenty years of communication research. Reviewing over 1,100 examples of leadership communication, and studying the inferences of modern neurological science has led the authors to a simple, stimulating leadership communication model. Leaders, at their best, communicate simultaneously on three channels: Factual, Emotional and Symbolic (FES). Clarke and Crossland demonstrate how FES can be used in public presentations, one-on-one meetings and even via email to enhance a leader's effectiveness and ability to move his or her constituency to greater conviction, consciousness and competence.
"The leader speaks. Followers applaud on command. There is an illusion that communication took place, but it didn't. Unfortunately, this communication failure breeds additional communication static. Over time, leaders resort to commands rather than communication. This leads to
breaking
talent, not starting it. The Leader's Voice is the language of your associates and your constituents. They listen in facts, emotions, and symbols."
Through engaging stories and detailed research stretching over more than 10 years, Clarke and Crossland reveal that effective leaders communicate in three channels:
While every leader, every human being, communicates in these three channels, most have an overreliance on just one. It's the MBA religiously devoted to the facts of business or the creative vice president speaking with pure emotion. With the brain hard-wired to listen and think in facts, emotions, and symbols, there is often a disconnect. In fact, what often happens in leadership communication is what the authors call "The Four Fatal Assumptions." Leaders speak and then assume that their constituents:
Understand
Agree
Care
Act Accordingly
Business leaders who often speak on just the factual channel and then don't understand why their messages didn't resonate must understand that constituents will always put the message through their own emotional and symbolic filters. By focusing on the principles of communication outlined in this book, leaders can conquer the four fatal assumptions by inspiring their constituents to align and unite toward a professional vision. Speaking in The Leader's Voice will help companies achieve greater results, including:
Better alignment around key strategic initiatives
Improved productivity spurred by higher levels of trust among employees
Greater leadership credibility
Higher morale
Increased efficiency through crystal clear clarity
Better communication among all employees

Reviews
"This book blew me away. Full of delightful stories, quirky facts, and inspiring imagery, I will recommend this to every leader I know."
—Jim Kouzes, coauthor of best-selling The Leadership Challenge

About the Authors
Boyd Clarke
and
Ron Crossland
have been business partners and friends for nearly 20 years. Before becoming CEO and vice chair of tompeterscompany!, they founded International Leadership Associates. Senior leaders from organizations such as LensCrafters, Arby's, Motorola, and Sun Microsystems have relied on their expertise in leadership, organizational change, and communication. While Ron tends to immerse himself in the facts of research and Boyd leans toward the emotion of great stories, they both share a love for symbolic communication. As such, they communicate best in The Leader's Voice when working together.

Table of Contents
| | | |
| --- | --- | --- |
| | Foreword by Tom Peters | ix |
| | Acknowledgements | xi |
| | First Word | xiii |
| 1 | The Leader's Voice | 1 |
| 2 | Hardwired for Facts, Emotions, and Symbols | 17 |
| 3 | How TNT Found Drama | 31 |
| 4 | People Love Facts | 43 |
| 5 | The Emotional Channel | 59 |
| 6 | Symbols: Rabbit's Foot and Rosary | 73 |
| 7 | The Sound of Silos | 91 |
| 8 | Without Wax | 107 |
| 9 | Climbing the Ladder of Abstraction | 123 |
| 10 | Onevoice | 141 |
| | Last Word: Calling All Capitalists | 153 |
| | Notes | 161 |