Million Dollar Consulting
: The Professional's Guide to Growing a Practice
Alan Weiss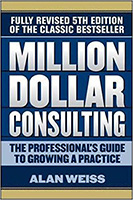 Format:
Paperback, 400pp.
ISBN:
9781259588617
Publisher:
McGraw-Hill Trade
Pub. Date:
5th Revised Edition April 27, 2016
Average Customer Review:

For Bulk Orders Call: 626-441-2024

Description and Reviews
From
The Publisher:
The Long-Awaited Update for Building a Thriving Consultancy
Build a thriving consultancy with the updated edition of this classic bestseller
Having inspired generations of consultants and entrepreneurs around the world, the "Rock Star of Consulting" Alan Weiss returns with a revised and completely updated edition of his authoritative guide to consulting success.
Weiss provides his time-tested model on creating a flourishing consulting business, while incorporating and focusing on the many dynamic changes in solo and boutique consulting, coaching, and entrepreneurship. In addition to guidance on raising capital, attracting clients, and creating a marketing plan, he also gives brand new step-by-step advice on:
• Harnessing today's global opportunities
• Developing brands across markets
• Creating and licensing intellectual property
• Avoiding the pitfalls of social media
• Landing unsolicited referrals through counterintuitive methods
• Managing and organizing your time wisely
• Succeeding in the face of continuing turbulence
Find out why this book has been the classic go-to for consultants for nearly twenty-five years, and learn how to grow your business into a $1 million-per-year firm today!

Reviews
"If you're interested in becoming a rich consultant, this book is a must read."
—Robert F. Mager, founder and president, Mager Associates, and member of the Training & Development Hall of Fame
"Blast out of the per diem trap and into value billing."
—Jim Kennedy, founder, publisher, and editor, Consultants News
"The advice on developing price structure alone is worth a hundred times the price of the book."
—William C. Byham, Ph.D., author of Zapp!
"Must reading for those who are beginning a practice or seeking to upgrade an existing practice."
—Victor H. Vroom, John G. Searle Professor, School of Management, Yale University

About the Author
Alan Weiss
is the founder and president of the renowned Summit Consulting Group, Inc. The only non-journalist to receive the Lifetime Achievement Award by the American Press Institute, he is an inductee into the Professional Speaking Hall of Fame® and the concurrent recipient of the National Speakers Association Council of Peers Award of Excellence. He has written 60 books that have been translated into 12 languages.

Table of Contents
| | | |
| --- | --- | --- |
| | Part I: Preparing to be a Million Dollar Consultant | |
| 1 | The State of the Art | |
| 2 | Propulsion and Volition | |
| 3 | Breakaway Speed | |
| 4 | Breaking Paradigms: The Worst Piece of Advice I've Ever Received | |
| 5 | Guidance, or Why the Ski Instructor Should Be In Front of You | |
| 6 | Racing Through the Turns | |
| | | |
| | Part II: Implementing Million Dollar Consulting | |
| 7 | Expanding Resources | |
| 8 | Making Money When They Say They Have None | |
| 9 | Fees: Stop Thinking That Time is Money | |
| 10 | Bulletproof Proposals | |
| 11 | How To Make Money in Bad Times | |
| 12 | Technology is a Tool not a Fool | |
| | | |
| | Part III: The Self Actualization of the Million Dollar Consultant | |
| 13 | Graceful Growth | |
| 14 | Ultimate Relationships | |
| 15 | Accelerating Repeat and Referral Business | |
| 16 | Beyond Success | |