Stuff Happens (and then you fix it!)
: 9 Reality Rules to Steer Your Life Back in the Right Direction
John Alston and Lloyd Thaxton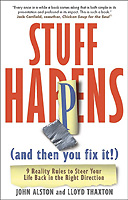 Format:
Hardcover, 176pp.
ISBN:
9780471273608
Publisher:
John Wiley & Sons
Pub. Date:
January 2003
Average Customer Review:

For Bulk Orders Call: 626-441-2024

Description and Reviews
From
The Publisher:
Reality rules
for conquering lifes big challenges.
Stuff Happens (and then you fix it!)
is a simple guide for getting through lifes rough spots and turning these challenges into positive opportunities for personal growth. Life, as good as it is, is sometimes going to throw some dirt on you. This uplifting and inspirational book by two award winning authors, internationally renowned Speaker Hall of Famer John Alston and five-time Emmy award winner Lloyd Thaxton, offers nine "Reality Rules" for dealing with these trying times and getting your life back on track. Keeping these nine rules in mind helps readers prepare for the stuff that happens and gives them the attitude adjustment they need to succeed. The many stories in the book of people bouncing back from all kinds of big and little problems by applying one or more of the nine reality rules offers proof that these rules really work. Its not what happens to you thats important, its how you respond to what happens and
Stuff Happens (And Then You Fix it)
tells you not only how to respond but how to fix it.
Stuff happens! People lose jobs, get divorced, or suffer emotional pain from the loss of good friends or lovers. Even a flat tire that results in an important lost appointment can be traumatic. Let's face it, sooner or later bad stuff happens to everyone. But it isn't what happens to you that's important, it's how you respond to what happens.
Stuff Happens (and then you fix it!)
is a simple guide for getting through life's rough spots and turning obstacles into opportunities for growth. Renowned speaker and performance strategist John Alston and Emmy Award—winning director-producer Lloyd Thaxton present nine uplifting and inspirational Reality Rules for dealing with trying times. Whether you've suffered professional failures or personal difficulties, keeping these rules in mind every day will give you the attitude adjustment you need to succeed. Each rule is explained in detail and illustrated with real-life stories and parables that offer the encouragement, support, and knowledge you need to get back on your feet when life knocks you down. It's an enlightening blend of practical real-world philosophy for living and inspirational tales that show that no matter how big the problem, you can make your life work again. Some get it, some don't. Some will, some won't. Those that do, do. Those that don't, don't. You want to get it? Read this book and you'll get it.
The nine Reality Rules:
1.Wise up, stuff happens
2.To win you have to begin
3.Knowledge is power
4.Be prepared
5.Working hard at what doesn't work doesn't work
6.To change your life, change your mind
7.Gratitude is the most powerful attitude
8.Feedback…the breakfast of champions
9.The power to choose is within

Reviews
"We've all had bad stuff happen to us. In a fun-reading way this book, Stuff Happens, is invaluable for showing how to take that bad stuff, deal with it, and be happy and thankful for the life you already have!"
—Jerry Lewis
"Throughout life, stuff happens . . . some good, some bad. When the bad hits you, read this book. It can help you bounce back and feel like dancing again."
—Dick Clark
"This book tells it like it is. Without the benefit of this information, some 'get it,' some don't. Anyone can read this and 'get it!' The fact is that life throws stuff at all of us, and fixing stuff is what growth, development, and survival in life is all about. According to Alston and Thaxton, no challenge is bigger than you."
—Roger Crawford, USPTA tennis professional, speaker, and author of How High Can You Bounce? The 9 Keys to Personal Resilience
"This book has a lot of soul, and if it seems that life has been dumping all kinds of stuff on you lately, sit down and read it. I'll make the bet that you'll soon stand up and sing I feel good!"
—James Brown, The Godfather of Soul
"In every business and operation, and even with the best systems, stuff happens and we have to fix it. This insightful book reaffirms the fact that painful as it may be, we ultimately make things better after problems occur, and no problem is bigger than we are . . . a great message for these times!"
—Frank Vitiello, President, founder, and CEO Vitech Systems Group

About the Authors
John Alston
is an internationally known author, speaker, and performance strategist whose programs have lifted the spirits of millions of people worldwide. His consulting clients include Hewlett-Packard, Bank One, the FDIC, and The Ford Motor Co., among others.
Lloyd Thaxton
wrote and produced over 200 segments for the
Today Show
. He is a fifteen-time Emmy Award nominee and five-time Emmy Award winner as a television producer, director, and writer. He was one of the founders of
Tiger Beat
magazine and star of
The Lloyd Thaxton Show
.

Table of Contents
Introduction
Prologue
Reality Rule #1. Wise Up, Stuff Happens
Reality Rule #2. To Win You Have to Begin
Reality Rule #3. Knowledge is Power
Reality Rule #4. Be Prepared
Reality Rule #5. Working Hard at What Doesn't Work Doesn't Work
Reality Rule #6. To Change Your Life, Change Your Mind
Reality Rule #7. Gratitude is the Most Powerful Attitude
Reality Rule #8. Feedback The Breakfast of Champions
Reality Rule #9. The Power to Choose is Within
Epilogue
End Message from John and Lloyd
Appendix

Customer Reviews
Write your own online review
.

Personal Opinion
February 27, 2003
Reviewer: from United States
I think its an improvement in the book world to see self help books that can guide someone in a better direction. I would have made chapters that included things like three balanced meals a day, Right amount of sleep, Some type of exercise, Hobby, Social greeting, Work, Checks and balances, Remembering to say Thank You.

Find Items On Similar Subjects

Failing Forward
: How to Make the Most of Your Mistakes