Sacred Cows Make the Best Burgers
: Developing Change-Ready People and Organizations
Robert Kriegel with David Brandt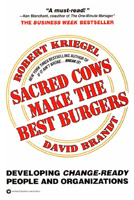 Format:
Paperback, 336pp.
ISBN:
9780446672603
Publisher:
Warner Books
Pub. Date:
April 1997
Average Customer Review:

For Bulk Orders Call: 626-441-2024

Description and Reviews
From
The Publisher:
Outmoded beliefs, practices, and processes...why do so many business people cling to their established ways as if their lives depended on them? When they live in an era characterized by on unprecedented rate of change? When the very things they refuse to give up, the sacred cows of the business world, are the lodestones that will kill their careers and block their companies' path to success? In this insightful and unique guide, Kriegel and Brandt reveal why people hold on to the old and how to inspire them to bring on the new - to the point where they're enthusiastically turning even their favorite sacred cows into burgers.
Tackling one of the most important business issues of today, the authors demonstrate why the latest panaceas - reengineering, virtual teams, outsourcing, reinventing, restructuring, downsizing - almost always prove unsuccessful. They expose how these buzzword programs overlook the most fundamental element of all business: people. After all, people are the gatekeepers of change, with the power to breathe life into a new program or kill it. If they're excited and positive, it's open sesame; if they're resistant, they'll slam the door in your face. Getting to the heart of the matter, Kriegel and Brandt show you how to coach yourself and others to create Change-Ready people.

Reviews
"Remarkable...Matchless...I am inspired by it."
—Tom Peters
Kriegel (If It Ain't Broke, Break It, LJ 4/15/91) and Brandt, a clinical psychologist specializing in change and transition, have written a guide to managing corporate change. They describe business's most common "sacred cows" and why they should be changed. These include "paper cows" (the more communication the better) and the "downsizing cow" (to cut costs, cut people). The authors also detail ways to build the change-ready environment and motivate people to change. A personality inventory and exercises for personnel are also included. Although other recent titles take on corporate change (e.g., Harry Woodward's Navigating Through Change, Irwin Professional Pub., 1994), none focuses on the need for change within traditional paradigms. Easy to read, with humorous illustrations, this book is recommended for public libraries.
—Library Journal / Kathy Shimpock-Vieweg, Muchmore & Wallwork Lib., Phoenix

About the Author
A pioneer in the field of human performance and the psychology of change, Robert J. Kriegel has coached both Olympic and professional athletes and has taught at Stanford University's prestigious Executive Management Program. A commentator on NPR's Marketplace and a popular keynote speaker at major business conferences around the world, Kriegel is recognized by thousands. He lives in Nevada City, California.
David Brandt, Ph.D.
is a bestselling author, nationally known change psychologist, and speaker who coaches Foprtune 500 companies in leadership and change management.

Find Items On Similar Subjects

How to Succeed in Business Without Working So Damn Hard
: Rethinking the Rules, Reinventing the Game