Leading People From the Middle
: The Universal Mission of Heart and Mind
William P. Robinson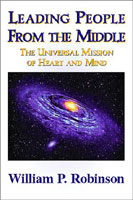 Format:
Paperback, 256pp.
ISBN:
9781930771253
Publisher:
Executive Excellence Publishing
Pub. Date:
August 2002
Average Customer Review:

For Bulk Orders Call: 626-441-2024

Description and Reviews
From
The Publisher:
With the opening lamentation of "not another book on leadership" William Robinson takes the reader on a voyage through history and discovery as he deftly weaves a new perspective on leadership. Traveling through past theories and beliefs on leadership, the reader is guided through the dense foliage of the leadership jungle. By identifying leadership styles and traits, and by examining past studies, Bill helps the reader to identify and examine their own leadership—and then develop a more effective leadership profile.
What will be required of leaders today? Bill identifies and explains six qualities of today's successful leaders:
Paradoxical
Secure
Communicative
Inspiring
Virtuous
Driven and Rhythmic

Reviews
Bill Robinson alerts us to the serious changes taking place in the leader's job and raises the crucial question of the relationship of organizations and society. Good stuff!"
—Max DePree, author of Leadership is An Art

About the Author
William Robinson
became the 17th president of Whitworth College in Spokane, Washington in July 1993. Before arriving at Whitworth, Bill had served as the president of Manchester College, in Indiana, for seven years. Whitworth students have become accustomed to seeing Bill eating in the dining hall, cheering at sporting events, enjoying plays and concerts on campus, visiting dorm lounges, playing "hoops," or just conversing with them. Bill typifies his involvement by saying, "My richest moments at Whitworth are the ones I share with students, My calling is to work with and for them.

Table of Contents
| | | |
| --- | --- | --- |
| | Preface | 11 |
| | Introduction | 19 |
| Section 1 | 21st Century Leadership | 23 |
| 1 | 21st Century Trends | 27 |
| 2 | Paradoxical Leadership | 35 |
| 3 | Secure Leadership | 51 |
| 4 | Inspiring Leadership | 59 |
| 5 | Communicative Leadership | 65 |
| 6 | Virtuous Leadership | 77 |
| 7 | Driven and Rhythmic Leadership | 85 |
| Section 2 | Trait-Based Leadership | 85 |
| 8 | Traits Related to Effort | 99 |
| 9 | Traits Related to Personality | 115 |
| Section 3 | Style-Based Leadership | 133 |
| 10 | Authoritarian Leadership | 139 |
| 11 | Democratic Leadership | 149 |
| 12 | Task-Oriented Leadership | 161 |
| 13 | Relationship-Oriented Leadership | 167 |
| 14 | Leadership Style Interactions | 173 |
| 15 | Situational Leadership | 179 |
| Section 4 | Transformational Leadership | 193 |
| 16 | Transformational Leadership | 195 |
| 17 | Follower-Driven Leadership | 207 |
| Section 5 | Changing Our Behavior | 213 |
| 18 | The Theory of Change | 215 |
| 19 | Six Steps to Successful Change | 227 |
| | Epilouge | 249 |
| | Notes | 251 |

Find Items On Similar Subjects

The Leadership Challenge
: Fourth Edition - Paperback