Leadership
Rudolph Giuliani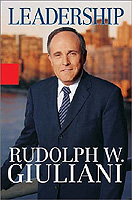 Format:
Paperback, 288pp.
ISBN:
9780751533330
Publisher:
Talk Miramax Books
Pub. Date:
October 2003
Average Customer Review:

For Bulk Orders Call: 626-441-2024

Description and Reviews
From
The Publisher:
Writing in his familiar voice—a New Yorker's bluntness, leavened by his passion for ideas—Rudolph Giuliani demonstrates in Leadership how the leadership skills he practices can be employed successfully by anyone who has to run anything. After all, until the September 11 attacks on the World Trade Center pushed him into an unwanted role in history, Giuliani was only months away from leaving office with a reputation as one of the most effective mayors New York had ever seen.
Having inherited a city ravaged by crime and crippled in its ability to serve its citizens, Giuliani shows how he found that every aspect of his career up to that point—from clerking for the formidable judge who demanded excellence (and rewarded it with a lifetime of loyalty) to busting organized crime during his years as a federal attorney—shaped his thinking about leadership and prepared him for the daunting challenges ahead. Giuliani's successes in turn strengthened his conviction about the core qualities required to be an effective leader, no matter what the size of the organization, be it an international corporation or a baseball team.
In detailing his principles of leadership, Giuliani tells captivating stories that are personal as well as prescriptive: how he learned the importance of staying calm in the face of attack from his father's boxing lessons—as well as the need to stand up to bullies; how a love of reading was early instilled in him by his mother and grew into a determination to master new subjects, and not rely on only the word of experts; how, in his recent fight with prostate cancer, learning to make decisions at the right time and with the right information reflected decision-making on a larger scale.
Leadership, Giuliani writes, works both ways: it is a privilege, but it carries responsibilities—from imposing a structure suitable to an organization's purpose, to forming a team of people who bring out the best in each other, to taking the right, unexpected risks. A leader must develop strong beliefs, and be held accountable for the results—principles he illustrates with candor and courage throughout the pages of this important and timely book. He never knew that the qualities he describes would be put to the awful test of September 11, he says; but he never doubted that they would prevail.

About the Author
Born in Brooklyn, New York,
Rudolph W. Giuliani
was elected the 107th mayor of the City of New York in 1993. Prior to becoming mayor, he had been Associate Attorney General, the third highest position in the United States Department of Justice, a position he left in 1983 to become US Attorney for the SOuthern District of New York. Hew was voted
Time
2001 Person of the Year. He founded Giuliani Partners, a consulting firm, in January 2002, and is based in New York.

r>
Table of Contents
| | | |
| --- | --- | --- |
| | Preface | ix |
| | Part I | |
| 1 | September 11, 2001 | ix |
| | Part II | |
| 2 | First Things First | 29 |
| 3 | Prepare Relentlessly | 51 |
| 4 | Everyone's Accountable, All of the Time | 69 |
| 5 | Surround Yourself with Great People | 98 |
| 6 | Reflect, Then Decide | 123 |
| 7 | Underpromise and Overdeliver | 155 |
| 8 | Develop and Commuicate Strong BEliefs | 171 |
| 9 | Be Your Own Man | 207 |
| 10 | Loyalty: The Vital Virtue | 228 |
| 11 | Weddings Discretionary, Funerals Mandatory | 253 |
| 12 | Stand Up to Bullies | 265 |
| 13 | Study. Read. Learn Independently. | 285 |
| 14 | Organize Around a Purpose | 299 |
| 15 | Bribe Only Those Who Will Stay Bribed | 324 |
| | Part III | |
| 16 | Recovery | 341 |
| | Appendicies | 381 |
| | Acknowledgements | 391 |
| | Index | 395 |

Find Items On Similar Subjects

The Prolfiles in Courage: The Illustrated Edition

When Character Was King