The Double-Edged Sword
: How Character Makes and Ruins Presidents, from Washington to Clinton
Robert Shogan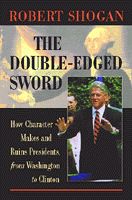 Format:
Paperback, 320pp.
ISBN:
9780813367774
Publisher:
Westview Press
Pub. Date:
February 2000
Average Customer Review:

For Bulk Orders Call: 626-441-2024

Description and Reviews
From
The Publisher:
The Double-Edged Sword: How Character Makes and Ruins Presidents, from Washington to Clinton rebuts the claim put forward by Clinton and his supporters that a president's private life can be separated from his performance in office. By examining the morality of some of our most prominent and influential executive chiefs - from the birth of the Republic and the launch of the New Deal to Watergate and the Clinton presidency - Robert Shogan illustrates how the so-called character issue and the intertwined issue of values are linked to the political process and governance. Based on extensive research as well as interviews with politicians and journalists, this book looks at how the strengths and weaknesses of character help shape presidential performance for good and for ill.

Reviews
From David S. Broder
A timely, terrific book that reminds us the issue of President character has run through American history, as a blessing or a curse. --
The Washington Post
From Booknews
A political correspondent in Washington for three decades and seven presidencies, Shogan examines the morality of some of the most prominent and influential US presidents from throughout the country's history. He shows how personal character and values are linked to the political process and governance, and how the public perception of them are used to manipulate the press and the electorate. Annotation c. Book News, Inc., Portland, OR (booknews.com)
From New York Times
[Shogan] offers the kind of anecdote and color that have distinguished his long reportorial career.
From USA Today
President Clinton's renowned indiscretions with former White House intern Monica Lewinsky have prompted teeth-gnashing and hand-wringing about what, precisely, Americans expect from a President. Robert Shogan's
The Double-Edged Sword
shows us that this debate isn't new.
From New York Post
Shogan reminds us that the idea of character was inherent in the Founders' concept of the presidency itself.
This beautifully written, keenly presented book gives readers what they need to know to put President Clinton's foibles in perspective. Deserves to be a bestseller.
—Larry J. Sabato is Director, University of Viriginia Center for Government Studies
A remarkable book as timely as this week's headlines and as timeless as the Declaration of Independence. Every potential national candidate and every actual American voter owes it to herself to read
The Double-Edged Sword
, a book as important as it is interesting.
—Mark Shields, Moderator, CNN's 'Capital Gang'
Should we be concerned with the private character of Presidents? In this well-written and equisitely timely book, Robert Shogan shows that we most certainly should, and explains why. This book should be read by every citizen who cares about the quality of our nation's government.
—Benjamin Ginsberg, Johns Hopkins University
A veteran reporter's fascinating inside account of the politics and importance of 'character issues,' and why both will always be with us.
—Stanley Renshon, author of High Hopes: The Clinton Presidency and the Politics of Ambition

About the Author
Robert Shogan
has covered the political scene from Washington as national political correspondent for more than thirty years, previously for Newsweek and currently for the
Los Angeles Times
.

Table of Contents
| | | |
| --- | --- | --- |
| | Author's Note | XI |
| 1 | The Ultimate Weapon | 1 |
| 2 | Father Figure | 13 |
| 3 | "A Vapor of Duplicity" | 33 |
| 4 | In Search of Crisis | 55 |
| 5 | "Psychoanalyzed by God" | 75 |
| 6 | The Prince of Charisma | 103 |
| 7 | The Punching Bag | 129 |
| 8 | The True Believer | 153 |
| 9 | The Nonbeliever | 171 |
| 10 | President Proteus | 193 |
| 11 | "Telling the Truth Slowly" | 223 |
| | A Note on Sources | 257 |
| | Index | 265 |

Find Items On Similar Subjects

Lives of Moral Leadership
•
Paperback

The American Leadership Tradition
: Moral Vision from Washington to Clinton

Character Counts
: Leadership Qualities in Washington, Wilberforce, Lincoln, and Solzhenitsyn

The Power of Character
: Prominent Americans Talk About Life, Family, Work, Values, and More