Growing the Distance
: Timeless Principles for Personal, Career and Family Success
Jim Clemmer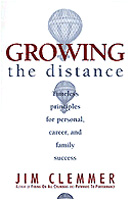 Format:
Paperback, 192pp.
ISBN:
9780968467503
Publisher:
Stoddart Publishing
Pub. Date:
April 1999
Average Customer Review:

For Bulk Orders Call: 626-441-2024

Description and Reviews
From
The Publisher:
There are countless personal and leadership development books full of jargon, fads, and buzzwords flooding the market. Jim's latest work is a book of "profound simplicity" that cuts to the essence, while being easy and fun to read. Although highly applicable to readers of Jim's previous bestselling books with roles and titles like manager, supervisor, or executive,
Growing the Distance
is written for a much broader audience. This book is written for "seeker's on the grow" - anyone constantly looking to change and improve.
At home or in the workplace, change is an inevitable fact of life. How we choose to respond to it - as leaders or as followers - determines our personal and professional growth.
Growing the Distance
is about developing the leader within all of us. This helps us to continue "growing at the speed of change." A central theme of the book is that leadership is action, not a position. We all need to be leaders regardless of our formal title or role. This starts with inner self leadership and moves outward to influence, guide, support, and lead others. Leadership ultimately shows itself in what we do "out there," but it starts "in here."
This enchanting book entertains, inspires, and moves readers to action.
Growing the Distance
is a browser's delight. "I hope readers find this book as fun to read as it was to write," Jim says. In 192 pages, he weaves together many humorous quips, light-hearted stories, and charming tales with "growing points" intended to "drive you to thinking." This is done with both original and ageless fables, current situations, pithy quotations, whimsical illustrations, and personal examples.
Growing the Distance
is not a conventional book with large, dense blocks of text to plow through. Rather, it has a unique and distinctive, three-tiered structure and magazine-style. One level is made up of inspirational, humorous, or thought-provoking quotations. A second level consists of timeless fables, tales, and current stories. The third level is Jim's core text with his observations, personal examples, reflections, illustrations, application ideas, and key learning points. Each section is headed by a short "lead line", introductory sentence, and title or sub-title.
The depth and authority of this captivating book comes from the research and writing of Jim's three previous bestselling books, specific research for this book, decades of training and consulting with hundreds of organizations, and over 25 years of applying these timeless principles to his own personal, career, and family life. "One of North America's leading transformation and improvement thinkers," Jim is the author of three other international bestsellers:
The VIP Strategy: Leadership Skills for Exceptional Performance
,
Firing on All Cylinders: The Service/Quality System for High-Powered Corporate Performance
(Canada's all time bestselling management book) and
Pathways to Performance: A Guide to Transforming Yourself, Your Team, and Your Organization
.
At the center of
Growing the Distance
(and the hub of the "leadership wheel" model in the book) is
Focus and Context: The Core of My Being
. This timeless principle is built around three central questions of vision, values, and purpose. Focus and context provides the central core for the six remaining timeless principles:
Responsibility for Choices: If It's to Be, It's Up to Me
Authenticity: Getting Real
Passion and Commitment: Beyond "Near-Life" Experiences
Spirit and Meaning: With All My Heart and Soul
Growing and Developing: From Phase of Life to Way of Life
Mobilizing and Energizing: Putting Emotions in Motion

Reviews
"... writes persuasively about the need for better balance in our lives...urges readers to consider their legacy...offering the chance to relax, reflect and regroup...interweaves anecdotes, quotes, fictional stories and his own musings in a leisurely style..."
—The Globe & Mail
"Jim has given us all much to think about and grow on. Very satisfying! At the deepest and most personal level, I am glad I read this book. If, like me, you think that getting one powerful, actionable insight from a book is worth the price,
Growing the Distance
is the bargain of the millenium."
—Ian Percy, Psychologist and Author of Going Deep
"Simultaneously practical and inspirational, Jim Clemmer takes a refreshing approach to leadership and personal growth.
Growing the Distance
is full of wisdom, anecdotes and pithy advice in an informal, easy-to-read digest format. Great reading for all walks of life."
— Nancy Semkin, Manager, Leadership Development, Royal Bank Financial Group

About the Author
Jim Clemmer
is a leading North American thinker on improving personal, team, and organization performance. A popular keynote speaker, management workshop/retreat leader, consultant, and executive coach, he has delivered thousands of presentations and given hundreds of media interviews on leadership. His international bestsellers include
The VIP Strategy, Firing on All Cylinders, Pathways to Performance
, and
The Leadership Digest
.

Table of Contents
| | | |
| --- | --- | --- |
| | Introduction | |
| 1 | Taking Control: The Way of the Leader | |
| 2 | The Core of My Being: Focus and Context | |
| 3 | If It's To Be, It's Up To Me: Responsibility for Choices | |
| 4 | Getting Real: Authenticity | |
| 5 | Beyond "Near-Life Experiences": Passion and Commitment | |
| 6 | With All My Heart and Soul: Spirit and Meaning | |
| 7 | From Phase of Life to Way of Life: Growing and Developing | |
| 8 | Putting Emotions in Motion: Mobilizing and Energizing | |
| Afterword | Taking Action: Grow for It | |

Find Items On Similar Subjects

Leadership from the Inside Out
: Becoming a Leader for Life

The Art of Waking People Up
: Cultivating Awareness and Authenticity at Work

The Leader's Digest
: Timeless Principles for Team and Organization Success