Living, Leading, and the American Dream
John W. Gardner
Edited by Francesca Gardner and Foreword by Bill Moyers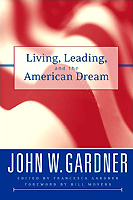 Format:
Paperback, 224pp.
ISBN:
9780787966782
Publisher:
Jossey-Bass
Pub. Date:
May 9, 2003
Average Customer Review:

For Bulk Orders Call: 626-441-2024

Description and Reviews
From
The Publisher:
"Liberty and duty, freedom and responsibility. That's the deal." John W. Gardner's life was dedicated to revitalizing the American Dream, a dream that must be recreated by each generation of caring citizens as they reshape it to meet the unrolling future. Now more than ever, citizens must step up and take action to create the world in which we want to live.
Living, Leading, and the American Dream
is an inspiration—and a call to action. Beginning with an exploration of Gardner's life and values in his own words, this stirring and engaging collection shares Gardner's vision on personal renewal, community, leadership, and civic engagement.
The essays and speeches collected in this transformational volume are founded on Gardner's belief that we as a people want freedom—freedom at home as well as a world where freedom is possible. They are founded on his deep belief in the dignity and worth of the individual and his unshakable resolve to protect and preserve that dignity. They are founded on his belief that men and women should be empowered to achieve the best that is in them, and that we are the declared enemies of all conditions, such as disease, ignorance, or poverty, that stunt the individual and prevent such fulfillment.
And they are founded on the fact that achieving these goals is difficult and requires the commitment of all citizens. The essays in
Living, Leading, and the American Dream
move from individual to community to society, offering Gardner's vision on the role of the individual in attaining the greater good. Leaders of innovative organizations, civic leaders, and concerned citizens will find guidance and inspiration in Gardner's unique vision of every citizen's responsibility and capacity to make a difference.

Reviews
"As an educator and social activist, John Gardner gave so much to the benefit of our communities, states, and nation."
—The Honorable Jimmy Carter
"John Gardner embodied the excellence he taught. This sampling of a noble life will keep alive the breadth of his perceptions and the depth of his commitment to a more rational, more caring society"
—Daniel Schorr, senior news analyst, National Public Radio
"Intellectual, activist, gadfly, leader, dreamer, and realist, John Gardner held a wry and joyous faith in the capacity of all Americans to renew themselves and our country. This inspiring collection of his insights and his vision is his parting gift to all who share that faith—or need to be reminded of it."
—The Honorable Timothy E. Wirth, president, United Nations Foundation
"John always said 'leaders find the words,' and it was never more true than in his own writings. This book is a great gift, enabling his spirit and inspiration to keep guiding our lives in meaningful directions, like the treasured mentor and companion he was for so many."
—Robert L. Joss, dean, Graduate School of Business, Stanford University
"Living, Leading, and the American Dream is an invaluable collection of John Gardner's wise lessons on how to be a strong leader, a committed citizen, and a thoughtful, productive individual—a true gift from a truly great man in an age when all three are so badly needed."
—Marian Wright Edelman, President, Children's Defense Fund

>
About the Author
John W. Gardner
was Lyndon Johnson's Secretary of Health, Education, and Welfare, as well as a member of various presidential panels during the Kennedy, Carter, and Reagan administrations. A recipient of the Presidential Medal of Freedom, he played an instrumental role in a vast array of enterprises throughout his remarkable career, including the White House Fellows Program, public television, Medicare, the Civil Rights Act, the Experience Corps, and the founding of Common Cause in 1970.

Table of Contents
| | | |
| --- | --- | --- |
| | Foreword | |
| | Preface | |
| | About John W. Gardner | |
| | About the Editor | |
| Pt. 1 | A Life in Action - and Reflection | |
| 1 | Glimpses of My Life | 3 |
| 2 | In the President's Cabinet | 11 |
| 3 | Leading Common Cause | 29 |
| Pt. 2 | The Courage to Live and Learn | |
| 4 | Personal Renewal | 41 |
| 5 | How to Tell When You've Grown Up | 55 |
| 6 | The Fourth Maxim | 57 |
| 7 | Touch the Earth | 61 |
| 8 | The Qualities of Creativity | 65 |
| Pt. 3 | The Release of Human Possibilities | |
| 9 | Commitment and Meaning | 75 |
| 10 | Motivation and the Triumphant Expression of Talent | 85 |
| 11 | The Full Expression of Human Excellence | 93 |
| 12 | Our Moral and Spiritual Lineage | 103 |
| Pt. 4 | Leading and Managing | |
| 13 | The Nature of Leadership | 113 |
| 14 | The Tasks of Leadership | 127 |
| 15 | The Heart of Leadership | 143 |
| Pt. 5 | Renewing Our Society | |
| 16 | The American Experiment | 159 |
| 17 | Building Community | 175 |
| 18 | Leading Community | 195 |
| 19 | The Independent Sector | 205 |
| 20 | The American Dream | 213 |
| 21 | Freedom and Obligation, Liberty and Duty | 229 |
| | Afterword | 219 |
| | Notes | 233 |
| | Index | 239 |

Find Items On Similar Subjects

On Leadership
by John Gardner