Leadership By the Book
: Tools to Transform Your Workplace
Bill Hybels, Phil Hodges, and Ken H. Blanchard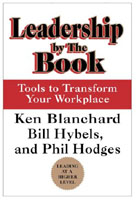 Format:
Hardcover, 192pp.
ISBN:
9780688172398
Publisher:
Waterbrook Press
Pub. Date:
March 2000
Average Customer Review:

For Bulk Orders Call: 626-441-2024

Description and Reviews
From
The Publisher:
Leadership Strategies That Work from the Greatest Leader of All Time.
Best-selling authors Kenneth Blanchard, Bill Hybels, and Phil Hodges offer a unique, compelling, and paradigm-shifting model that effectively interweaves successful leadership methods with character development principles based on the teachings of history's most influential leader, Jesus Christ. Told in the parable format of The One Minute Manager and Raving Fans, Leadership by the Book offers unexpected and exceptional answers to crucial leadership issues today - helping leaders in all walks of life to fulfill their calling and help others do the same.
Is there any common ground between leadership success strategies on one hand, and the Biblical principles regarding character on the other?
Yes! And this new book - from three of America's most successful and compassionate leaders - clearly and creatively explains the answer. With unique value for leaders of all kinds, Leadership by the Book interweaves character development principles with successful leadership methods - using the example and words of Jesus as the catalyst and framework for it all.
The framework for the sound and practical teachings of this unique and powerful book is a story about three acquaintances who each have something vital to learn. One is a businessman who, after years of fabulous success, finally comes face to face with the emptiness in his soul. His struggle becomes critical when a heart attack leaves him hovering near death. This crisis brings together two figures from his past - a teacher of leadership strategies, and a successful pastor. Their renewed interaction leads them all to deeper discoveries of the value of biblical leadership principles.
In Leadership by the Book readers - particularly company presidents, corporate leaders, middle managers, department heads, parents, coaches, community leaders, pastors, lay leaders, and others - will learn the very practical side of Christ's teachings on leadership. And they'll learn that truly effective leadership cannot be divorced from the character issues that Jesus taught.




Table of Contents


| | | |
| --- | --- | --- |
| | Introduction | |
| | The Heartbreak | |
| | The Professor | |
| | Michael | |
| | The Minister | |
| | The Commissioning | |
| | Effective Leadership Starts on the Inside | |
| | Iron Sharpens Iron | |
| | Synergy | |
| | Spiritual Significance Versus Earthly Success | |
| | The Heart of the Matter | |
| | The Awakening | |
| | The Recovery | |
| | The Retreat | |
| | A Choice | |
| | Checking the Heart | |
| | Clearing the Head | |
| | Leadership Begins with a Clear Vision | |
| | If You Want Your People to Be Responsible | |
| | You Must Be Responsive | |
| | The Servant Leader as a Performance Coach | |
| | Guiding the Hands | |
| | The Return of the Servant Leader | |
| | Epilogue I---The Minister | |
| | Epilogue II---The Professor | |
| | Acknowledgments | |
| | List of Scripture Quotations | |
| | About the Authors | |
| | Services Available | |

Customer Reviews
Write your own online review
.

Must Read
October 21, 2008
Reviewer: A Ramesh from India
Happy to have this book, thank to Ken and his mates. Every thing is presented in a lucid manner. I really mingled with the character within the book. Quotes from Bible were nicely handled. I recommend to anyone who want to transform his/her attitude towards servant leadership from the old one. I want every one to be Eagles, not "Quacking"Ducks.

Review
September 2, 2007
Reviewer: tgrissett from Alabama, United States
This book is great. It was an assignment for a class, however, I am glad that I am able to apply it's principles personally. We all think of servant leadership, but how many of us actually practice it? This book has actually helped me in my supervisory role at work, my mothering role as well a a wife.
I recommend this book not only for your working environment but your personal life also.

Find Items On Similar Subjects

Heart-Centered Leadership
: An Invitation to Lead From the Inside Out