Unnatural Leadership
: Going Against Intuition and Experience to Develop Ten New Leadership Instincts
David L. Dotlich and Peter C. Cairo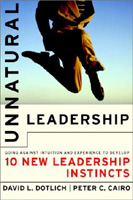 Format:
Hardcover, 280pp.
ISBN:
9780787956189
Publisher:
John Wiley & Sons
Pub. Date:
February 2002
Average Customer Review:

For Bulk Orders Call: 626-441-2024

Description and Reviews
From
The Publisher:
In a Complicated, Insecure, and Constantly changing world, how do effective leaders in high-performing companies continue to succeed? Are they fearless heroes who have all the right answers -- transforming businesses, making fast decisions, and inspiring everyone no matter how complex the situation? Or are they "real people" who work hard to trust others, acknowledge their own flaws, and challenge conventional thinking? Are leaders who win followers and get things done heroic figures? Or do they actually possess characteristics and practice skills that fall outside the comfort zone of executives steeped in traditional leadership methods?
Written by David Dotlich and Peter Cairo -- two of the country's top executive coaches and educators -- Unnatural Leadership debunks the common notion of the natural leader as a flawless figure. The book describes the truth about being a real leader in a business environment turned upside down by e-commerce, diversity, security concerns, globalization, and matrix structures. Drawing on personal experience working with successful leaders in top-tier companies throughout the world, Dotlich and Cairo identify a style of leadership used by those who succeed in complicated business and people situations, a style that maximizes a leader's strengths and acknowledges weaknesses.
Using a variety of tools and techniques based on their proven Action Learning workshops and Action Coaching methods, the authors reveal how to transition from the traditional natural leadership role and develop successful, effective unnatural leadership traits. They recommend simple, practical methods that effective leaders use to get things done, motivate and lead, and deal with their own weaknesses and impulses.
Each chapter contains a wealth of tips and techniques to help implement and develop the skills needed to become a new kind of leader. Dotlich and Cairo challenge conventional wisdom about leadership such as "be in control" and "hide your flaws." Instead, they identify ten "unnatural acts" that effective leaders regularly commit and are, in fact, the best response to an "irrational, chaotic, and unpredictable universe." These include: Refuse to be a prisoner of experience. Expose your vulnerabilities. Create teams that create discomfort. Trust others before they earn it. Coach and teach rather than lead and inspire.
Unnatural Leadership is a realistic and truthful road map that provides a practical manual for anyone who longs to be both authentic and effective.
The authors' ten unnatural traits challenge other traditional assumptions such as:
Rely as much on innocence as experience.
Surround yourself with people who create some discomfort.
Acknowledge the "shadow" side--your failings--publicly.
Connect instead of create.
Trust first, ask questions later.
Grapple with right-versus-right decisions.
Coach and teach rather than inspire and lead.

Reviews
Pity the CEO who thinks he can be a know-it-all micromanager and still succeed. In
Unnatural Leadership
, executive coaches David L. Dotlich and Peter Cairo list 10 guidelines that today's best executives are adopting. Among them: inviting change, being approachable and considering the views of the mail-room kid with the green hair. "We tell our clients, 'You have to win your followers every day,' " says Dotlich. Some of the unnatural acts the authors recommend are: "Coach and Teach Rather Than Lead and Inspire," "Expose Your Vulnerabilities" and "Trust Others Before They Earn It." Cairo says what's missing from other leadership manuals are instructions on how to practice the techniques. So each chapter in this book ends with exercises like "acknowledging your shadow side" (the power-hungry, mircromanaging stuff) to smooth the transition from arrogance to unnatural humility.
—Time Magazine, May 20, 2002

About the Authors
David L. Dotlich
—former executive vice president of Honeywell and Groupe Bull—is a partner of CDR International and coauthor of Action Learning (Jossey-Bass, 1998) and Action Coaching (Jossey-Bass, 1999), both of which identify breakthrough ways to develop leaders and are used by companies throughout the world. He is a business adviser, educator, and coach to top executives of Johnson & Johnson, Intel, Siemens, Bank of America, Novartis, Sun Microsystems, The Gap, Nike, Sprint, Washington Mutal, and more.
Peter C. Cairo
former chair of the Department of Organizational and Counseling Psychology at Columbia University, specializes in the areas of leadership development, executive coaching, and business effectiveness. He is a partner of CDR International. His clients include Andersen, Avon, Bank of America, Colgate Palmolive, Lilly, and Merck. He is a coauthor of
Action Coaching
.

Table of Contents
| | | |
| --- | --- | --- |
| | Foreword (Stephen H. Rhinesmith) | |
| | Preface | |
| | Acknowledgments | |
| | Introduction | |
| | Part One: The Importance of Unnatural Leadership | |
| 1 | Ten Unnatural Acts | |
| | Exercise: Assessing Your Unnatural Leadership | |
| 2 | Adapting to an Increasingly Unnatural Environment | |
| | Exercise: Breaking the Rules of Natural Leadership | |
| 3 | Resistance Factors | |
| | Exercise: Assessing Your Resistance to Unnatural Leadership | |
| | Part Two: Personal Challenges for the Unnatural Leader | |
| 4 | Refuse to Be a Prisoner of Experience | |
| | Exercise: Refusing to Be a Prisoner of Experience | |
| 5 | Expose Your Vulnerabilities | |
| | Exercise: Exposing Your Vulnerabilities | |
| 6 | Acknowledge Your Shadow Side | |
| | Exercise: Acknowledging Your Shadow Side | |
| 7 | Develop a Right-Versus-Right Decision-Making Mentality | |
| | Exercise: A Tool for Developing an Unnatural Decision-Making Mentality | |
| | Part Three: Leading Teams as an Unnatural Leader | |
| 8 | Create Teams That Create Discomfort | |
| | Exercise: Creating Teams That Create Discomfort | |
| 9 | Trust Others Before They Earn It | |
| | Exercise: Trusting Others Before They Earn It | |
| 10 | Coach and Teach Rather Than Lead and Inspire | |
| | Exercise: Coaching and Teaching Rather Than Leading and Inspiring | |
| | Part Four: Leading the Organization as an Unnatural Leader | |
| 11 | Connect Instead of Create | |
| | Exercise: Connecting Instead of Creating | |
| 12 | Give Up Some Control | |
| | Exercise: Giving Up Some Control | |
| 13 | Challenge the Conventional Wisdom | |
| | Exercise: Challenging the Conventional Wisdom | |
| 14 | Giving Yourself Unnatural Options | |
| | Bibliography | |
| | Index | |
| | About the Authors | |

Find Items On Similar Subjects

The Contrarian's Guide to Leadership