Leadership That Matters
: The Critical Factors for Making a Difference in People's Lives and Organizations' Success
Marshall Sashkin and Molly G. Sashkin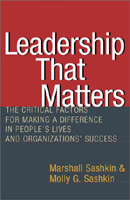 Format:
Paperback, 200pp.
ISBN:
9781576751930
Publisher:
Berrett-Koehler
Pub. Date:
January 2003
Average Customer Review:

For Bulk Orders Call: 626-441-2024

Description and Reviews
From
The Publisher:
Leadership that Matters
is leadership that makes a real difference in both by affecting organizational productivity and performance and by making a positive difference in the lives of organization members. This form of leadership transforms organizations from "good" to "excellent" and transforms individuals from subordinate followers to self-directed leaders.
Leadership That Matters
explores how transformational leadership can be developed and practiced and provides practical advice for leaders who want to transform people and organizations.
Leadership That Matters
examines transformational leadership-leadership that not only improves productivity and performance but also makes a positive difference in the lives of organization members. Traditional, "transactional" approaches to leadership involve a kind of contractual arrangement: the leader issues orders and subordinates are expected to carry them out to the best of their abilities. This is fine as far as it goes. Transformational leadership goes a step further. Transformational leaders achieve superior results because of their ability to transform people from dutiful followers into self-directed leaders who go beyond simply doing what is expected of them. Drawing on research that investigates leadership, culture, and performance in dozens of organizations, the Sashkins describe the specific behaviors and personal characteristics of transformational leaders, who make leadership matter. They show how these leaders construct empowering organizational cultures that nurture self-reliance and long-term thinking. The authors offer practical advice on how to become a transformational leader. They also elaborate the crucial differences between charismatic leadership-which involves dependence on the leader-and true transformational leadership.

About the Authors
Marshall Sashkin
is professor of human resource development at The George Washington University, Washington, DC, where he teaches graduate courses on management and organization development, leadership, consulting skills, and research design and methods. He is coauthor of the bestselling business book, Putting Total Quality Management to Work.
Molly G. Sashkin
is president of Ducochon Press, a publishing firm specializing in assessment and training materials for management and organization development. She is the coauthor of The New Teamwork (with Marshall Sashkin).

Table of Contents
| | | |
| --- | --- | --- |
| 1 | What Is Leadership? Why Does Leadership Matter? | |
| 2 | What Does Research Tell Us? | |
| 3 | Leadership Skills and Behaviors | |
| 4 | Charisma and Character | |
| 5 | Confident Action | |
| 6 | How Leaders Think | |
| 7 | Leadership in Context | |
| 8 | The Paradoxes of Transformational Leadership-Transforming Followers | |
| 9 | How Do We Know That Transformational Leadership Matters? The Research Evidence | |
| 10 | Issues in Leadership-Gender, Empowerment, and the New Economy | |
| 11 | Leadership That Matters | |

Find Items On Similar Subjects

Creating Leaderful Organizations
: How to Bring Out Leadership in Everyone