The New SuperLeadership
: Leading Others to Lead Themselves
Charles C. Manz and Henry Sims Jr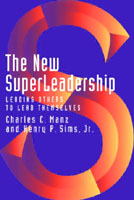 Format:
Hardcover, 250pp.
ISBN:
9781576751053
Publisher:
Berrett-Koehler Pub
Pub. Date:
February 2001
Average Customer Review:

For Bulk Orders Call: 626-441-2024

Description and Reviews
From
The Publisher:
THE TRULY EFFECTIVE LEADER today must be one who leads others to lead themselves. The rapid pace of change demands fast and flexible responses throughout the organization—there's no time to wait for directives from the top. And the highly-skilled workers so vital to organizational success also demand a high degree of independence. Old-fashioned command-and-control leadership is just too slow and stifling.
Charles Manz and Henry Sims, Jr. pioneered the concept self-leadership in their bestselling book SuperLeadership. In
The New SuperLeadership
, the authors present new content and examples designed to help leaders develop the kind of autonomous, quick-reacting workforce necessary to thrive in these turbulent times. This enriched and expanded edition takes the concepts in the first edition to another level by emphasizing a pragmatic, how-to approach for developing leaders at every level of the organization.
Drawing on contemporary examples and profiles, many from the high-tech and information sectors, Manz and Sims shatter the myth of the traditional, aggrandized versions of "heroic" leadership. They show that a leader truly becomes successful by turning followers into extraordinary self-leaders—pillars of strength that will support the organization at every level. They detail a series of action-oriented steps through which the SuperLeader provides an opportunity for followers to express and develop their own leadership skills—and in the process become highly motivated, dynamic contributors.
The New SuperLeadership
critically reviews traditional leadership styles, vividly illustrating the drawbacks of each: the "Strong Man" whose reliance on fear-based compliance smothers initiative; the "Transactor" who promotes a narrow "what's in it for me?" mentality; and the "Visionary Hero" whose powerful personality inspires commitment but inadvertently discourages independent thinking. By bringing out the leader in every employee, SuperLeadership enables leaders to avoid these pitfalls and develop an enthusiastic, innovative and energized workforce.
The New SuperLeadership
is a radically new way of looking at leadership, offering a leadership paradigm ideally suited to the realities of the modern workplace. It reveals that the only way to succeed today is to tap into the innate leadership potential that lies within every employee.

About the Authors
Charles C. Manz
is the Nirenberg Professor of Business Leadership at the University of Massachusetts. He has served as a consultant, researcher, or management education leader with organizations such as General Motors, Motorola, American Express, Prudential, Procter & Gamble, the American Medical Hospital Association, and the U.S. government.
Henry P. Sims, Jr.
is Professor of Management and Organization and former Director of the Ph.D. Program at the Maryland Business School. He recently served as a Fulbright Fellow and Visiting Professor at Hong Kong Baptiste University. His business experience includes being Corporate Staff Management Consultant at Ford Motor Company; Project Engineer, Design Engineer, and Skilled Trades Supervisor at Ford Motor Company Steel Division; and Management Trainee at U.S. Steel Corporation and Armco Steel Corporation.

Table of Contents
Introduction: A Call For SuperLeadership
1
Part I:
The Ghosts of Leadership: Past, Present, and Future
1
Leadership in the 21st Century
Profile: Dennis Bakke of AES Corporation
11
2
The Strongman, Transactor, Visionary Hero, and SuperLeader
Profile: Chainsaw Al: SuperLeader NOT !
37
3
SuperLeadership 101: The Basics For Unleashing Self-Leadership
Profile: Percey Barnevik of ABB
55
Part II:
Self-Leadership Strategies: Leading the One in the Mirror
4
Self-Leadership in Action
Profile: Carley Fiorina of Hewlett-Packard
77
5
Self-Leadership through Natural Rewards
94
6
Self-Leadership of the Mind
Profile: SuperLeadership in The Information Age: Leading by Creating Knowledge Self-Leaders
107
Part III:
SuperLeadership… It's in the Details
7
Leading Others to Lead Themselves
Profile: MacGregor: Insisting on Self-Leadership
127
8
Leading Individuals to Become Self-Leaders
Profile: Herb Kellerher of Southwest Airlines
145
9
Leading Teams to Self-Leadership
Profile: Joe Paterno & Phil Jackson—SuperLeadership in Sports
169
10
Leading Organizational Cultures to Self-Leadership
Profile: (More) Dennis Bakke of AES Corporation
190
Part IV:
SuperLeadership in the 21st Century
11
Leadership: A Hero or Hero Maker?
217
Index
245

Find Items On Similar Subjects

Leadership From The Inside Out
: Becoming a Leader for Life