Whistle While You Work
: Heeding Your Life's Calling
Richard J. Leider and David A. Shapiro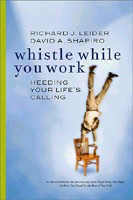 Format:
Paperback, 158pp.
ISBN:
9781576751039
Publisher:
Berrett-Koehler Pub
Pub. Date:
January 2001
Average Customer Review:

For Bulk Orders Call: 626-441-2024

Description and Reviews
From
The Publisher:
EVERYONE WANTS to live a life that enables them to make the most of their unique gifts, interests, and passions-to find their true calling, the work they were born to do.
Whistle While You Work
is a liberating guide that uses powerful stories and exercises to help readers find truly satisfying, fulfilling work consistent with their deepest values.
The authors combine a thoughtful and practical discussion about calling with examples showing how to apply these ideas to one's life. They mix in dozens of inspiring stories featuring individuals who have found-or are in the process of finding-their calling with straightforward advice and suggestions on how to discover one's calling. Most importantly, they provides readers with a solid path for embracing calling-a subject usually addressed abstractly-in a useful, fun, and systematic way.
Through a unique Calling Card™ exercise that features a guided exploration of 52 "natural preferences"-such as Advancing Ideas, Doing the Numbers, Building Relationships, Performing Events-the book gives readers a new way to detect and reflect on the core of their life's work. By using this and other tools in the book, readers develop their own answers to three critical questions: What gift do I naturally give to others? What gift do I most enjoy giving to others? What gift have I most often given to others? In answering those questions, they will reveal to themselves their calling-and ultimately move toward new realms of success and fulfillment.
Whistle While You Work
is an inspiring, effective, and entertaining approach to discovering one's calling. It will equip all of us with the mind-set, stories, coaching, and, perhaps most importantly, the hope we need to find our way ahead-and see a clear picture of what our right work is and what to do with our limited time here on Earth.

Reviews
"Put simply, here's a book that will help you make sure that your work matters-to you and to others."
—Alan Webber, Founding Editor, Fast Company magazine
"This book inspires us to remember that the essence of every calling is a summons to serve."
—Walter F. Mondale, former Vice President of the United States
"This book is music to your soul."
—Bob Rosner, author of Working Wounded and The Bosses Complete Survival Guide, and syndicated columnist
"They gave me new ways to think, ideas to ponder, action items to move on, and they made me smile. Thank you!
—Beverly Kaye, coauthor of Love 'Em or Lose 'Em: Getting Good People to Stay

About the Authors
Richard J. Leider
is a founding partner of the Inventure Group, a training firm in Minneapolis, Minnesota devoted to helping individuals, leaders, and teams discover the power of purpose. His clients include many Fortune 500 companies. Leider is author or coauthor of six previous books, including the bestselling
Repacking Your Bags, The Power of Purpose, The Inventurers
, and
Life Skills
.
David A. Shapiro
is the Education Director of the Northwest Center for Philosophy for Children, a non-profit organization that brings philosophy into the lives of young people in schools and community groups. David is coauthor (with Richard J. Leider) of
Repacking Your Bags
, and author of
Choosing the Right Thing to Do
.

Table of Contents
| | | |
| --- | --- | --- |
| | Introduction: If You Can't Get Out of It, Get Into It! | 1 |
| 1 | What Do I Want to Be When I Grow Up? | 11 |
| 2 | What Is My Calling Card? | 27 |
| 3 | Gifts: Is My Job My Calling? | 53 |
| 4 | Passions: What Keeps Me Calling? | 77 |
| 5 | Values: Where Do I Make the Connection? | 89 |
| 6 | How Do I Heed the Call? | 105 |
| 7 | Legacy: Did I Answer the Call? | 119 |
| | Index | 145 |

Find Items On Similar Subjects

Life Skills
: Taking Charge of Your Personal and Professional Growth