Leadership and Self-Deception
: Getting Out of the Box
The Arbinger Institute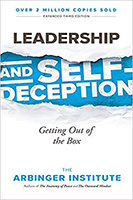 Format:
Paperback, 240pp.
ISBN:
9781523097807
Publisher:
Berrett-Koehler Pub
Pub. Date:
Expanded edition September 4, 2018
Average Customer Review:

For Bulk Orders Call: 626-441-2024

Description and Reviews
From
The Publisher:
Leadership and Self-Deception
introduces readers to an important new idea in organizational thinking. It shows how the problems that typically prevent superior performance in organizations are the result of a little-known problem called "self- deception."
According to the authors, people who are in self-deception live and work as trapped in a box. Blind to the reality around them, they undermine performance—both their own and others'. The problem is, being in the box they can't see that they undermine performance. Consequently, they don't change, and neither do their results.
The good news is that there is a solution to self-deception and the costly problems that arise from it. Leadership and Self-Deception shows what self- deception is, how people get trapped in it, how it kills organizational performance, and--most importantly—the surprising way to solve it.
Current organizational theory finds itself in the same situation that medicine faced a century and a half ago. In those days, doctors didn't understand how a single disease could lie below the surface of a range of different symptoms, and they had no conception of how germs cause disease. As a result, they could only treat symptoms. Leadership and Self-Deception shows how business, like people, can be afflicted by "disease" — in this case self-deception, the major culprit in corporate failure. The book explains how leaders can escape self-deception and put to use the skills, systems, and techniques that will bring success to themselves and their organizations.




Reviews

I've known the work of the Arbinger Institute for years. Arbinger's ideas are profound, with deep and sweeping implications for organizations. Leadership and Self-Deception provides the perfect introduction to this material. It is engaging and fresh, easy to read, and packed with insight. I couldn't recommend it more highly.

— Stephen R. Covey, author of The 7 Habits of Highly Effective People

About the Author
"Arbinger" is the ancient French spelling of the word "harbinger." It means "one that indicates or foreshadows what is to come; a forerunner." The Arbinger Institute is a forerunner, a "harbinger," of change.
Arbinger's change work grows out of the development at the heart of the human sciences that is introduced in this book. Led by philosopher Terry Warner, a team of scholars has broken new ground in solving the age-old problem of self-deception. The result is a striking account of human behavior and human potential. The Arbinger Institute was founded to translate this important work into practical effect for individuals, families, and organizations worldwide.
Arbinger's focus on organizations began when a well-known consultant asked for our help with one of his clients. As a result of Arbinger's work, that company became the industry's profit leader, eventually doubling and even tripling the return on investment of its nearest competitors. Out of that experience Arbinger began to focus on the organizational implications and applications of the self-deception problem and solution--a focus that continues today.
Founded by Terry Warner, Arbinger is led by managing directors Duane Boyce, Jim Ferrell, and Paul Smith.

Table of Contents
| | | |
| --- | --- | --- |
| Part 1: | Self-Deception and the Box | |
| Part 2: | How We Get in the Box | |
| Part 3: | How We Get Out of the Box | |

Customer Reviews
Write your own online review
.

Very informative for a new Manager
May 21, 2008
Reviewer: Ray from Arizona United States
I recently became a manager for a program and I needed a book which would jump start me in my new position. I am glad I found this book at this time. It captures your attention at the begining and you see yourself in the book. I recommend this to any new manager or superviors who are just beginning.