Ronald Reagan
: How an Ordinary Man Became an Extraordinary Leader
Dinesh D'Souza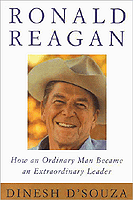 Format:
Paperback, 256pp.
ISBN:
9780684848235
Publisher:
Touchstone Books
Pub. Date:
February 1999
Average Customer Review:

For Bulk Orders Call: 626-441-2024

Description and Reviews
From
The Publisher:
Ten years ago Ronald Reagan stood at the Berlin Wall and said, "General Secretary Gorbachev, if you seek peace, if you seek liberalization, come here to this gate. Tear down this wall." Soon after that, the wall came tumbling down, and the regime that Reagan called the "evil empire" was no more.
Looking back, we now recognize the 1980s as a remarkable decade: one that saw the spread of freedom and democracy around the world, the revival of the American economy, and the restoration of national spirit and pride after years of indefinable malaise.
Yet, oddly, the man who occupied the White House is not credited with the changes that occurred during those tumultuous years. His critics and even many of his aides and allies are reluctant to celebrate Reagan as a great president.
It's not hard to see why. He was a most unusual leader: a former actor who seemed disengaged from the daily operations of government. He was said to nap at cabinet meetings. He spent much of his time telling stories and cracking jokes, sometimes reinforcing his critics' perceptions. "The doctors say hard work never killed anyone," Reagan once observed, "but why take the chance?"
How, then, can we square Reagan the man with the astonishing events of the Reagan era? The mystery of Reagan is best summarized in the remark that National Security Advisor Robert McFarlane made to Secretary of State George Shultz: "He knows so little, and accomplishes so much."
In Ronald Reagan: How an Ordinary Man Became an Extraordinary Leader, Dinesh D'Souza solves the mystery of Reagan by showing how this "ordinary" man was able to transform the political landscape in a way that made a permanent impact on America and the world. Through firsthand reporting and interviews, D'Souza portrays the private side of Reagan -- the man behind the mask -- and reveals the moral sources of his vision and leadership.
Indeed, D'Souza argues that Reagan deserves to be considered one of the most important presidents in American history and, with Franklin Roosevelt, one of the two most influential of the 20th century. He concludes that, if Reagan does not fit our preconceptions of what makes a great leader, then we must rethink our understanding of both greatness and leadership.

Reviews
The best story I have read in years, and the truest.
—P.J. O'Rourke, author of Parliment of Whores

About the Author
Dinesh D'Souza
, a research scholar at the American Enterprise Institute, served as Senior Domestic Policy Analyst in the Reagan White House from 1987 to 1988. He is the bestselling author of
Illiberal Education
and
The End of Racism
. He lives in the Washington, D.C. area with his wife, Dixie, and his daughter, Danielle.

Table of Contents
| | | |
| --- | --- | --- |
| | Acknowledgments | ix |
| | Prologue: The Wise Men and the Dummy | 1 |
| 1 | Why Reagan Gets No Respect | 7 |
| 2 | The Education of an Actor | 33 |
| 3 | Mr. Reagan Goes to Washington | 57 |
| 4 | A Walk on the Supply Side | 85 |
| 5 | They Don't Call It Reaganomics Anymore | 109 |
| 6 | Confronting the Evil Empire | 129 |
| 7 | Making the World Safe for Democracy | 149 |
| 8 | And the Wall Came Tumbling Down | 173 |
| 9 | The Man Behind the Mask | 199 |
| 10 | Spirit of a Leader | 227 |
| | Epilogue: The Road Not Taken | 257 |
| | Notes | 265 |
| | Index | 283 |

Find Items On Similar Subjects

All Items by or about Ronald Reagan