The Mind of the CEO
Jeffrey E. Garten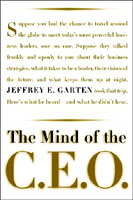 Format:
Paperback, 320pp.
ISBN:
9780465026166
Publisher:
Basic Books
Pub. Date:
December 2001
For Bulk Orders Call: 626-441-2024

Description and Reviews
From
The Publisher:
In these times of intense change, what role should our most important business leaders play in society? How do the CEOs of major corporations construe their jobs in this time of extraordinary and rapid change? How should they construe them? These are the questions posed and answered in
The Mind of the CEO
.
Based on extensive and highly personal interviews with forty CEOs around the world-people such as GE's Jack Welch, AOL's Steven Case, Intel's Andy Grove, Newscorp's Rupert Murdoch, BP Amoco's John Browne, Nokia's Jorma Olilla, and Toyota's Hiroshi Okuda-Jeffrey E. Garten takes us on a journey into the innermost thoughts of today's corporate titans and paints a compelling picture of the awesome strategic and daily challenges facing them. His conclusions may surprise you:
Global CEOs are not nearly as powerful as many people think, nor do they see themselves that way. Many are overwhelmed by the complexity of what's demanded of them.
The real Internet wars are not about the dot-coms but will be fought among the traditional corporate titans. And they've only just begun.
Many global CEOs are complacent about their international strategies; they know less than they think they do.
Corporate success in the future will require much more than creating short-term value for shareholders. Most top executives will have to devote more attention to employees, customers, suppliers, and communities-but achieving the right balance is nearly an impossible task.
With creative and expert workers more important than ever, keeping employees' trust and articulating clear values are increasingly crucial. But in an era of restructuring, layoffs, and "golden parachutes," trust is increasingly hard for CEOs to win.
For CEOs to thrive, their visions must be increasingly bold, and execution increasingly flawless. But the bolder the vision, the more difficult the execution.
CEOs need to take a much stronger role than most now contemplate to create the framework of globalization-to manage the environment, train workers, and design the rules and institutions for trade, finance and communications. Otherwise, globalization will end in chaos and anarchy.
In the end, Jeffrey Garten advocates a much broader leadership role for CEOs than they now appear willing to play-though he acknowledges the extreme difficulties many will have in doing so. His ideas are a challenge to those who are suspicious of corporate power, those who believe CEOs should focus only on enriching shareholders, and even to many CEOs who see their jobs much more narrowly. They will be welcomed by anyone who is wrestling with how to make globalization work better, and those who genuinely seek ways for multinational corporations to exercise the citizenship responsibilities that come with vast economic power. No one interested in the future can afford not to read, think about, and debate
The Mind of the CEO
.

About the Author
Jeffrey E. Garten
is Dean and William S. Beinecke Professor in the Practice of International Trade and Finance at the Yale School of Management. An expert in finance and international trade, he was Undersecretary of Commerce for International Trade, 1993-95, and spent thirteen years on Wall Street. Formerly on the faculties of New York University and the Columbia Business School, he writes a monthly column on the global marketplace for Business Week magazine. Author of two books, he has written widely in such publications as the Harvard Business Review, Foreign Affairs, the New York Times, and the Wall Street Journal. He lives in New Haven, Connecticut.

Find Items On Similar Subjects

What It Takes To Be Number #1
: Vince Lombardi on Leadership