How Ronald Reagan Changed My Life
Peter Robinson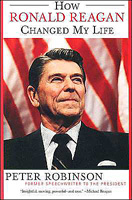 Format:
Paperback, 272pp.
ISBN:
9780060524005
Publisher:
Regan Books
Pub. Date:
July 1, 2004
Average Customer Review:

For Bulk Orders Call: 626-441-2024

Description and Reviews
From
The Publisher:
On February 6, 2001, my nine-year-old daughter happened to wander into the room during a television segment marking Ronald Reagan's ninetieth birthday. She watched for a moment. Then she turned to me and asked, "Dad, is that the President you worked for?"
What answer could I give her? How could I make her see? I wanted my daughter to recognize that the world she inhabited was freer and more prosperous because of that old, old man on television. But I also wanted her to grasp my personal debt to him, to understand all that he taught me-how to work and how to relax, how to think and how to use words, how to be a good husband, how to approach life itself...
I needed to tell my children how Ronald Reagan changed my life.
In 1982, as a young man, Peter Robinson was hired as a speechwriter in the Reagan White House. During the six years that followed, he was one of a core group of writers who became informal experts on Reagan, absorbing not just his political positions but his personality, manner, and way of carrying himself And the example Reagan set-as a confident, passionate, principled, generous-spirited older man-molded Robinson's outlook just as he was coming into his own. "Hard work. A good marriage. A certain lightness of touch," he writes. "The longer I studied Ronald Reagan, the more lessons I learned."
At the core of
How Ronald Reagan Changed My Life
are ten of the life lessons Robinson learned from the fortieth President-principles that have guided his own life ever since. But it also offers a warm and unforgettable portrait of a great yet ordinary man who touched the individuals around him as surely as he did his millions of admirers around the world.
Drawing on journal entries from his days at the White House, as well as interviews with those who knew the President best, Robinson etches his portrait with fresh observations, telling detail, and that "certain lightness of touch" that recalls the master himself The result is nothing less than a love story-an account of the profound respect and affection that one young man came to feel for the President who changed his life forever.

Reviews
"Ronald Reagan's speeches were among the West's most powerful weapons. They raised American hearts and encouraged millions behind the Iron Curtain that freedom was their birthright. Peter Robinson helped President Reagan with those speeches – and in
How Ronald Reagan Changed My Life
he shares with us the wealth of insights he gained into this great man's character."
—Margaret Thatcher


Reader's Index
Send us your favorite quotes or passages from this book
.
• "Reagan wasn't serene because he'd been lucky. He was serene because he'd been
un
lucky, learning to bring good from bad so thoroughly that he retained his equanimity even after an attempt on his life." Pg. 38
• "You can accomplish a lot more by cooperating with human nature, I learned from the fortieth President, than by straining against it. Life lasts a good long time. Easy does it." Pg. 156

About the Authors
Peter Robinson spent six years as a speechwriter in the Reagan White House. Among his speeches was the celebrated "Mr. Gorbachev, tear down this wall" speech, which Reagan delivered in Berlin in 1987. Robinson is the host of the PBS television program,
Uncommon Knowledge
, and the author of two previous books,
It's My Party: A Republican's Messy Love Affair with the GOP
and
Snapshots From Hell: The Making of an MBA
. A fellow at the Hoover Institution, he lives in Stanford, California.

Table of Contents
| | | |
| --- | --- | --- |
| | Prologue | 1 |
| 1 | The Pony in the Dung Heap | 15 |
| 2 | The Posthole Digger | 42 |
| 3 | How to Act | 66 |
| 4 | Tear Down This Wall | 85 |
| 5 | At the Big Desk in the Master Bedroom | 114 |
| 6 | The Man with the Natural Swing | 135 |
| 7 | Without Her, No Place | 157 |
| 8 | The Oak-Walled Cathedral | 184 |
| 9 | Tomfools | 204 |
| 10 | The Lifeguard vs. Karl Marx | 232 |
| | Epilogue | 255 |
| | Acknowledgements | 261 |

Find Items On Similar Subjects

Books about Ronald Reagan

Reagan: A Life in Letters