Then Darkness Fled
: The Liberating Wisdom of Booker T. Washington
Stephen Mansfield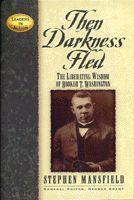 Thsi title is out-of-print. Used copies are available.
Format:
Hardcover, 283pp.
ISBN:
9781581820539
Publisher:
Cumberland House Publishing
Pub. Date:
October 1999
Leaders In Action Series
Average Customer Review:


Description and Reviews
From
The Publisher:
Then Darkness Fled
is a compelling look at the life of Booker T. Washington and the qualities of leadership that he embodied in his own life and work. From the perspective of the 1990s, about 100 years after Washington's life, his emphasis on the value of character and the training of "head, hand, and heart" seems incredibly relevant. Indeed, to middle-class African Americans today—nearly two-thirds of the nation's black population—his wisdom is being reclaimed as a proven path of racial advance and prosperity, both individually and as a people.
During his life, Washington was among the most celebrated men in American history. One of the leading educators, authors, and statesmen of his day, he walked side by side with the likes of Frederick Douglass, Mark Twain, H. G. Wells, Theodore Roosevelt, and Andrew Carnegie. The first African American to dine with the president in the White House, he was also the first to have tea with the queen of England, the first to receive honorary degrees from Harvard and Dartmouth, the first to be honored on a postage stamp, the first to be commemorated on a coin, the first to have a naval vessel named for him, and the first to have schools named for him.
More than 30 years ago, Martin Luther King Jr. described Washington's achievements when he said of him, "He lit a torch in Alabama; then darkness fled." That trail which Washington blazed from a childhood of slavery to international renown as an educator was blazed by unfailing dedication and sheer determination. Very early he determined that he would transform the values, frame the habits, and instill the knowledge that his people required. He accomplished much of this with great success at his beloved Tuskegee Institute through a clear expression of practical wisdom that still has the ability to empower all people to be the best that they can be.




About the Author

Stephen Mansfieldhas been an educator, administrator, counselor, author, and pastor. The author of dozens of articles and essays, three book-length monographs, and two highly acclaimed books, Never Give In: The Extraordinary Character of Winston Churchill and Faithful Volunteers: The History of Religion in Tennessee, he is the Senior Pastor of the Belmont Church in Nashville, Tennessee. The recent recipient of his Ph.D. in literature and philosophy, he lives in Nashville, Tennessee, with his wife, Patricia, and their two children.




Find Items On Similar Subjects


Leaders In Action Series