The Irresistible Growth Enterprise
: Breakthrough Gains from Unstoppable Change
Donald Mitchell and Carol Coles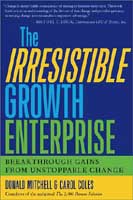 Format:
Hardcover, 282pp.
ISBN:
9781579220266
Publisher:
Stylus Publishing
Pub. Date:
October 2000
Average Customer Review:

For Bulk Orders Call: 626-441-2024

Description and Reviews
From
The Publisher:
Have powerful market trends or uncontrollable events ever delayed or derailed your organization's growth? This book offers you new concepts and improved tools to anticipate and convert such forces into powerful allies to help you exceed, not merely achieve, your goals, even in the most challenging environments.
Or are you an entrepreneur starting a new business? This book demonstrates how to establish a trajectory to flourish by harnessing whatever the unstoppable and unpredictable forces you may encounter, whether in the traditional or digital economy.
The authors present new ways to recognize and understand the forces that are impacting you so you can develop the right vision, and implement the correct strategy to consistently and effectively turn them to advantage. Rejecting old habits such as expending resources to combat or neutralize forces over which you cannot control, The Irresistible Growth Enterprise instead describes revolutionary, yet common sense, management principles that will lead you to breakthrough gains. It also explains how to spread the necessary skills throughout your organization in order to enjoy the highest level of effectiveness.
Irresistible forces come in many forms including exponential technological development, frequently changing and ever more demanding customer expectations, rapid shifts in the economy, new regulations, fluctuating financial and currency markets, as well as the emergence of new competitors and increasing price pressures as the pace of globalization accelerates. Companies that have ridden such forces well in the past—such as Microsoft, Cisco Systems, Starbucks, and AOL—have grown from startups to billion dollar sales corporations in ever shorter periods of time.
Which forces will be most important for your organization tomorrow? How can they propel your business to irresistible growth? While you cannot accurately predict their direction or timing, applying the principles of The Irresistible Growth Enterprise will enable you to position yourself to always benefit quickly from shifts, and open an ever-expanding lead over your competitors. Here are new questions you need to ask yourself about your business, new ways to answer them, and new processes to employ to pursue your winning course.
Tomorrow's leaders will be those who excel at using all irresistible forces to best advantage. The Irresistible Growth Enterprise offers you the key to grasping your full potential for immediate and sustained breakthroughs.




Reviews

"Change is an inevitable consequence of staying in business these days. This book leads you to an understanding of the drivers of that change and provides guidance in turning change into sustainable competitive advantage."

—Michael J. Birck, Chairman and CEO of Tellabs, Inc.
"This remarkable resource will enable you to move rapidly ahead of competitors by utilizing powerful trends to best advantage."

—Jerre L. Stead, former Chairman and CEO, Ingram Micro, Inc. and coauthor of Soaring with the Phoenix
"The greatest business opportunity in my career presented itself as a market collapse. Things worked out well, but a lot of pioneering was involved. Today, executives encountering such circumstances have help—in the form of Don Mitchell's and Carol Coles' The Irresistible Growth Enterprise."

—Norman R. Augustine, Chairman of the Executive Committee, Lockheed Martin Corporation
In our industrial gas business, the major challenges ahead include currency fluctuations, volatile local economies around the globe, and changed customer needs. These factors can quickly turn prosperity into problems and vice versa. The Irresistible Growth Enterprise defines the flexibility one needs to turn all of these uncontrollable events to advantage."

—H. W. Lichtenberger, Chairman, Praxair, Inc.
"Learning to be flexible is one of management's toughest challenges. The Irresistible Growth Enterprise shows you how to become adroit and energized by unexpected changes."

—Alan G. Hassenfeld, Chairman and Chief Executive Officer, Hasbro, Inc
"Every executive is interested in the subject of what it takes to achieve business breakthroughs. Don Mitchell and Carol Coles have impressive consulting and research credentials for examining this subject. Their new book effectively presents both the fundamental concepts and practical strategies for taking irresistible forces and making them work for you as your tailwinds for success."

—Robert H. Rock, Chairman, Directors & Boards
The route to value creation often comes through the seeming roadblocks of change. Don Mitchell and Carol Coles share many insights on how to make the most -- and best -- out of trouble."

—Glenn Schaeffer, President, Mandalay Resort Group

About the Authors
Donald Mitchell
is chairman and CEO of Mitchell and Company, a corporate strategy and finance consulting firm. He is the co-author, with Carol Coles and Robert Metz, of the acclaimed The 2,000 Percent Solution (AMACOM 1999). Mitchell and Company is a management consulting firm established in 1977 which specializes in business strategy and financial consulting for major companies. Its consulting clients are predominately found among the nation's 200 largest corporations. As one evidence of the firm's success, since 1977 Mitchell and Company's clients have increased their share values by more than $37 billion faster than the Standard and Poor's 500 Average has risen, following the implementation of action recommended by the firm.
In 1981, Mr. Mitchell founded Mitchell Investment Management Company, Inc., a firm specializing in acquisitions. He also serves as its president. Mr. Mitchell's clients are primarily successful executives in major corporations and entrepreneurs. Mr. Mitchell has been quoted in Business Week, Chief Executive Magazine, Dun's Business Month, Financial World, Forbes, Fortune, Institutional Investor, Money, The New York Times, and the Wall Street Journal, and by ABC News and United Press International concerning business strategy and investments
Carol Coles is president, COO and co-founder of Mitchell and Company. She is a co-author of The 2,000 Percent Solution (AMACOM 1999). She also is co-administrator and designs and conducts research for three organizations: Share Price Growth 100, which focuses on better understanding how transactions affect value; Leading Division Presidents 100, which works on operating performance improvements; and Outstanding Chief Executive Officers.
She has spent twenty-two years designing management processes for major corporations to support strategy, helping companies develop the strategic potential of their businesses, and helping corporations improve their market value. She has been quoted in Business Week, Forbes, Money, The New York Times, the Wall Street Journal, and numerous key regional newspapers concerning the future direction of major corporations and of the stock market.




Table of Contents


| | | |
| --- | --- | --- |
| | Acknowledgments | |
| | Introduction: The Missing Element | |
| 1 | The Light at the End of the Tunnel | 5 |
| 2 | "What's Going on Here?" - Lack of Understanding can Cause Inappropriate Actions or Inaction | 15 |
| 3 | "Where Are We Going, and How Do We Get There?" | 29 |
| 4 | "But That's not the Way I Thought It Would Be!" | 47 |
| 5 | "What Do We Do Now?" | 59 |
| 6 | "Circle the Wagons!" | 71 |
| 7 | "We Can Do it All!" | 87 |
| 8 | "How Can we Miss?" | 101 |
| 9 | "Throw Me a Towel" | 113 |
| 10 | "Let's Take a Chance!" | 124 |
| 11 | Keep the Tape Measure Handy | 143 |
| 12 | Use Measurements to Prepare for Altering the Pattern to Fit You | 155 |
| 13 | Think Ahead to Pin Down the Right Success Pattern | 167 |
| 14 | Weave the Thread of Success into your Fabric | 183 |
| 15 | Create the Perfect Pattern | 197 |
| 16 | Go for a Perfect Fit | 207 |
| 17 | Assemble a Tailor-Made Team | 223 |
| 18 | Continually Check Out the Newest Fashions | 237 |
| | Epilogue: Embrace the Forces | 249 |
| App. 1 | Personal Irresistible Force Management Lessons | 254 |
| App. 2 | Internet Irresistible Force Lessons | 261 |
| | Bibliography | 267 |
| | Index | 268 |

Find Items On Similar Subjects

The 2,000 Percent Solution
: Free Your Organization from "Stalled" Thinking to Achieve Exponential Success