Nelson's Way
: Leadership Lessons from the Great Commander
Stephanie Jones & Jonathan Gosling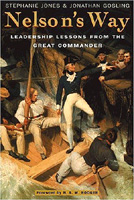 Format:
Paperback, 224pp.
ISBN:
9781857883718
Publisher:
Nicholas Brealey Publishing
Pub. Date:
October 2006
Average Customer Review:

For Bulk Orders Call: 626-441-2024

Description and Reviews
From
The Publisher:
Nelson's Way is a unique look at Nelson and his leadership skills which will provide timely and intensely practical lessons for all businesses. This fantastic roller-coaster read is as much an adventure story as a business book and will be guaranteed to capture the imagination of both new and committed Nelson fans.
Vice-Admiral Horatio Lord Nelson has been widely admired as a celebrated and effective leader. His dynamic approach to leadership and management has now been translated into timeless, practical and contemporary insights for today's managers. Nelson's Way will bring 'The Nelson Touch' of vision, courage, inspiration, teamwork and above all leadership, to a new generation.
"The lesson's from Nelson' leadership are even more appropriate today than they were two centuries ago. The freely given support of all your people is the key to competitive success."
—Sir John Harvey-Jones
Explaining how Nelson embodies the characteristics of the most successful of leaders, Jones and Gosling explore this unique and complex hero. Always visible, he bravely led from the front, sharing the risks whatever the personal sacrifice as well as achieving the glory.
Nelson's Way
incorporates the latest research and joins a series of ground-breaking studies applying historical biography to business to create radical new insights into Nelson, his heroic exploits and legendary leadership skills, all set against the backdrop of the high seas, his personal passions and sacrifices as well as the legendary victories. Now everyone can be inspired by Nelson's legend and all aspiring leaders can learn how to recreate 'The Nelson Touch.'
Nelson's Way
shows Nelson to be a complex man but also a leader who was ahead of his time, being able to manage as well as to lead. This in turn raises questions about the role of the modern leader, their expertise, ability to manage and the type of leadership which best suits their personalities. It includes contributions from well-known experts including Sir John Harvey-Jones, First Sea Lord and Exeter alumnus Sir Jonathan Band, John Adair, Greg Dyke and Dr Henry Mintzberg.
With chapters analyzing Nelson's 'virtues' of Heroism, Vocation, Courage, Passion, Loyalty, Diligence, Inspiration and Glory, and incorporating the latest research in the field,
Nelson's Way
asks a series of provocative leadership questions inspired by Nelson's own approach to leading: why be a leader? Do you need to be an expert in your field to lead? Should you lead from the front? How do you balance your personal and private life? Why be a team player? Can you be a leader and a manager? Why should others follow you? What will be your legacy? It joins a series of ground-breaking studies applying historical biography to business to create radical new insights into Nelson, his heroic exploits and legendary leadership skills.

About the Authors
Jonathan Gosling
is the Director of the Centre for Leadership Studies of the University of Exeter. Previously Director of the Strategic Leaders' Unit at Lancaster University and of the International Masters in Practising Management, Jonathan's research focuses on leadership and ethics in current strategic change, and on contemporary innovations in leadership development.
Stephanie Jones
studied maritime history and has lectured at the London School of Economics. After an international career in management consulting she currently lectures in leadership to students and executives and is a Visiting Fellow at the Centre for Leadership Studies at Exeter. She is currently based in Dubai and lectures worldwide. She has published over 20 books on business and management techniques.