Top Performance
: How to Develop Excellence in Yourself and Others
(Revised and Updated)
Zig Ziglar
with Bryan Flannigan, Krish Dunham, Bryan Flanagan and Jim Savage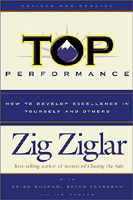 Format:
Paperback, 233pp.
ISBN:
9780800759742
Publisher:
Revell
Pub. Date:
Revised edition September 1, 2004
Average Customer Review:

For Bulk Orders Call: 626-441-2024

Description and Reviews
From
The Publisher:
Research has proven that technical skills, professional training, and knowledge account for only fifteen percent of the reason a person acquires a job and succeeds in it. Eighty-five percent of the reason someone gets a job, keeps it, and moves ahead depends on people skills-the ability to deal with others effectively. In
Top Performance
, Zig Ziglar tells readers how to get the most out of themselves and others by developing people management skills. He reveals the qualities of good leadership-knowing how to channel people's energies and stimulate their desire to excel. In this essential guide, Ziglar also identifies the key factors to effective people management, provides specific solutions for overcoming and correcting poor management practices, and shares tried-and-true applications of people management principles that help readers move theory into the "real world" of everyday life.
Rich with anecdotes and vivid illustrations,
Top Performance
provides specialized instruction for improving relationships with supervisors, coworkers, and subordinates. It is thoroughly revised from the original 1986 publication and includes updated stories and case studies for today's readers who want to achieve maximum effectiveness in any profession.
Maximize your leadership abilities and management skills with Top Performance. Inside, you will find winning ideas on how to:
direct people's energies and stimulate their desire to excel
manage people effectively-and get others to want your leadership
overcome and correct poor management practices
develop a healthy self-image
establish standards for evaluating performance
improve relationships and communication

Reviews
Readers of Ziglar's other how-to-succeed books will know what to expect: formulas and slogans by the dozen, illustrative anecdotes (often drawn from his own experiences), a few facts of behavioral psychology made easy, and some arrestingly provocative statementsamong them ``You can have everything in life you want if you will just help enough other people get what they want!'' As a rule, success-winning formula books tend to ignore the problems presented by the differences in people's individual capacities, with the result that they too easily assume the practice by everyone of a few simple principles will guarantee success. Ziglar's book is no exception to this rule, but, all things considered, it is a cut above most titles of this kind. A. J. Anderson, Graduate Sch. of Library & Information Science, Simmons Coll., Boston History Fairbank, John King. The Great Chinese Revolution: 1800 to the present.
—Library Journal


Reader's Index
Send us your favorite quotes or passages from this book
.
• "A manager's or leader's team members want
exactly
the same thing. Someone they can truly look up to—but someone who does not look down on them" Pg. 39
• "One of the fastest ways to improve our own self-esteem is to focus our attention on others." Pg. 99

About the Author
Zig Ziglar
is a talented author and speaker whose client list includes thousands of small and mid-sized businesses, Fortune 500 companies, U.S. government agencies, churches, schools, and nonprofit associations. Nine of his seventeen books have appeared on bestseller lists, including See You at the Top, Raising Positive Kids in a Negative World, Over the Top, and Secrets of Closing the Sale.
Bryan Flannigan and Krish Dunham are senior trainers and curriculum developers for Ziglar Training Systems in Carrollton, Texas.

Find Items On Similar Subjects

All Items by Zig Ziglar

Zig Ziglar's Life Lifters
: Moments of Inspiration for Living Life Better

Zig
: The Autobiography of Zig Ziglar