In Pursuit of Leadership
: Principles and Practices from the Life of Moses
Gregory K. Morris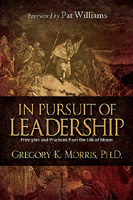 Format:
Paperback, 300pp.
ISBN:
9781597817240
Publisher:
Xulon Press
Pub. Date:
March 12, 2006
Average Customer Review:

For Bulk Orders Call: 626-441-2024

Description and Reviews
From
The Publisher:
One of the most critical issues confronting the twenty first century church is leadership. The need is great and if the church is to do and be all that God intends, it will only be accomplished through effective biblical leadership. But what is spiritual leadership and how do we recognize it?
In Pursuit of Leadership
addresses these and other questions in an examination of the leadership qualities of Moses. Drawing from the life of one of the world's greatest leaders, Dr. Greg Morris identifies specific characteristics of authentic spiritual leadership. He peels back the mystery of leadership and offers fresh biblical insights derived from a solid biblical perspective. Dr. Morris offers clear and practical guidance on how leaders can make a positive impact on the people and organizations they lead. If you are in leadership or aspire to leadership, this book will provide the tools to lead God's way.

Reviews
"Dr. Greg Morris peels back the mystery of leadership offering fresh biblical insights for those in leadership or those who aspire to leadership. He has written a classic and In Pursuit of Leadership will be a book leaders will refer to over and over again as they seek to be the man or woman that God has intended for them to be…If you want to improve your impact and leadership quotient, the book is for you! Make it an essential part of your leadership library."
—Pat Williams Senior Executive Vice President, Orlando Magic
"Greg Morris has given a gift to those who want to lead…and want to do it God's way. With clarity and freshness, this book will lead you through the principles that are extant in the life of Moses, one of the world's great leaders. This is a book that will change and empower your life...and the lives of those you touch."
—Dr. Steve Brown Key Life Network Reformed Theological Seminary
"In Pursuit of Leadership is a useful addition to the leader's library. The rich examples and valuable insights will bless the neophyte and expert alike."
—Dr. Mark Rutland President, Southeastern University
"Greg Morris has given us an inspiring, informative, and practical study on leadership as seen in the life of Moses. Up-to-date and refreshing, grounded in experience, this is must reading for students and practitioners alike. Honing your leadership skills by practicing biblical principles makes for a profitable servant of God. Well worth your study and teaching to others."
—Dr. Gilbert A. Peterson President and Chancellor (retired), Lancaster Bible College and Graduate School
"Of all the books that I have recently read pertaining to leadership, In Pursuit of Leadership is certainly one of the best. All those in leadership positions should make sure to read it, especially pastors. Most of the leadership qualities needed to succeed in today's environment are exemplified in this book. Dr. Morris has done a great job of using the life of Moses to teach the ethics and skills required of today's leader."
—Dr. Neal Weaver President, Louisiana Baptist University
"In Pursuit of Leadership provides a unique resource on a vital subject. Based on the life of Moses, Dr. Morris skillfully weaves the biblical text with practical application and a treasure of supporting quotations. Using timeless principles and current application make this a valuable study for those who desire to be effective leaders today."
—Dr. David L. Burnham Radio Bible Class


Reader's Index
Send us your favorite quotes or passages from this book
.
• "The reality of true leadership is that your rights actually DECREASE as you rise in the organization, while your responsibilities INCREASE. This suggests that leadership involves not power or prestige but servanthood." Pg. 46 • "Two of the most important words in a leader's vocabulary are
listen
and
learn
. An effective leader never stops listening to people and never stops learning." Pg. 59

About the Author
Dr. Greg Morris
is a well respected and nationally known authority on Christian leadership. Drawing on more than twenty five years of leadership roles in both business and the church his background uniquely qualifies him to address the challenges of leadership. His writing and speaking ministry over the past decade has touched thousands of church leaders and denominations worldwide. Dr. Morris has served as senior pastor, denominational executive, missionary and college and seminary teacher. Currently Dr. Morris is professor of Bible and preaching at Florida Theological Seminary as well as founder and president of Greg Morris Ministries, Inc. and Leadership Dynamics. He has studied at the University of Akron, Wheaton College Graduate School, Trinity Evangelical Divinity School and Louisiana Baptist University. He resides in Lakeland, Florida with his wife Sandy and their three children, Joshua, Caleb and Elizabeth-Anne along with their canine cohort, Deacon.

Table of Contents
| | | |
| --- | --- | --- |
| | Foreword by Pat Williams | xi |
| | Acknowledgments | xv |
| | | |
| | Introduction | xvii |
| 1 | Moses, a Model of Leadership | 21 |
| 2 | A Man of Faith | 35 |
| 3 | Desert School of Leadership | 51 |
| 4 | A Man of Affinity | 67 |
| 5 | Character Counts! | 81 |
| 6 | I Can See Clearly Now | 93 |
| 7 | A Leader, His Critics and Conflict | 111 |
| 8 | The Leadership Team | 133 |
| 9 | The Fine Art of Delegation | 147 |
| 10 | Leading During Turbulent Times | 161 |
| 11 | Why Waddle When You Can Fly! | 175 |
| 12 | Long Haul Leadership | 187 |
| 13 | The Power of Humility | 201 |
| 14 | Passion or Perish! | 219 |
| 15 | Filling the Sandals of Moses | 233 |
| 16 | Is Failure Final? | 249 |
| 17 | Finish Well! | 263 |
| 18 | Epilogue | 273 |
| | | |
| | Notes | 275 |
| | Leadership Bibliography | 293 |

Find Items On Similar Subjects

Biography