Alexander Hamilton
Ron Chernow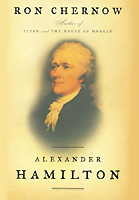 Format:
Hardcover, 600pp.
ISBN:
9781594200090
Publisher:
Penguin Books
Pub. Date:
April 2004
Average Customer Review:


For Bulk Orders Call: 626-441-2024

Description and Reviews
From
The Publisher:
From National Book Award winner Ron Chernow, a landmark biography of Alexander Hamilton, the Founding Father who galvanized, inspired, scandalized, and shaped the newborn nation.
Ron Chernow, whom the New York Times called "as elegant an architect of monumental histories as we've seen in decades," now brings to startling life the man who was arguably the most important figure in American history, who never attained the presidency, but who had a far more lasting impact than many who did.
An illegitimate, largely self-taught orphan from the Caribbean, Hamilton rose with stunning speed to become George Washington's aide-de-camp, a member of the Constitutional Convention, coauthor of The Federalist Papers, leader of the Federalist party, and the country's first Treasury secretary. With masterful storytelling skills, Chernow presents the whole sweep of Hamilton's turbulent life: his exotic, brutal upbringing; his brilliant military, legal, and financial exploits; his titanic feuds with Jefferson, Madison, Adams, and Monroe; his illicit romances; and his famous death in a duel with Aaron Burr in July 1804.
For the first time, Chernow captures the personal life of this handsome, witty, and perennially controversial genius and explores his poignant relations with his wife Eliza, their eight children, and numberless friends. This engrossing narrative will dispel forever the stereotype of the Founding Fathers as wooden figures and show that, for all their greatness, they were fiery, passionate, often flawed human beings.
Alexander Hamilton was one of the seminal figures in our history. His richly dramatic saga, rendered in Chernow's vivid prose, is nothing less than a riveting account of America's founding, from the Revolutionary War to the rise of the first federal government.

About the Author
Ron Chernow
won the National Book Award in 1990 for his first book,
The House of Morgan
, and his second book,
The Warburgs
, won the Eccles Prize as the Best Business Book of 1993. His biography of John D. Rockefeller, Sr.,
Titan
, was a national bestseller and a National Book Critics Circle Award finalist.

Table of Contents
Author's Note xi
Prologue: The Oldest Revolutionary War Widow 1
The Castaways 7

Hurricane 29

The Collegian 41

The Pen and the Sword 62

The Little Lion 83

A Frenzy of Valor 107

The Lovesick Colonel 126

Glory 154

Raging Billows 167

A Grave, Silent, Strange Sort of Animal 187

Ghosts 203

August and Respectable Assembly 219

Publius 243

Putting the Machine in Motion 270

Villainous Business 291

Dr. Pangloss 310

The First Town in America 332

Of Avarice and Enterprise 344

City of the Future 362

Corrupt Squadrons 389

Exposure 409

Stabbed in the Dark 419

Citizen Genêt 431

A Disagreeable Trade 448

Seas of Blood 458

The Wicked Insurgents of the West 468

Sugar Plums and Toys 482

Spare Cassius 501

The Man in the Glass Bubble 517

Flying Too Near the Sun 526

An Instrument of Hell 546

Reign of Witches 569

Works Godly and Ungodly 580

In an Evil Hour 592

Gusts of Passion 603

In a Very Belligerent Humor 619

Deadlock 630

A World Full of Folly 640

Pamphlet Wars 657

The Price of Truth 665

A Despicable Opinion 680

Fatal Errand 695

The Melting Scene 710
Epilogue: Eliza 723
Acknowledgements 733

Notes 739