The Starfish and the Spider
: The Unstoppable Power of Leaderless Organizations
Ori Brafman and Rod Beckstrom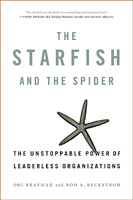 Format:
Paperback, 240pp.
ISBN:
9781591841838
Publisher:
Portfolio
Pub. Date:
August 2008
Average Customer Review:

For Bulk Orders Call: 626-441-2024

Description and Reviews
From
The Publisher:
Understanding the amazing force that links some of today's most successful companies
If you cut off a spider's leg, it's crippled; if you cut off its head, it dies. But if you cut off a starfish's leg it grows a new one, and the old leg can grow into an entirely new starfish.
What's the hidden power behind the success of Wikipedia, craigslist, and Skype? What do eBay and General Electric have in common with the abolitionist and women's rights movements? What fundamental choice put General Motors and Toyota on vastly different paths? How could winning a Supreme Court case be the biggest mistake MGM could have made?
After five years of ground-breaking research, Ori Brafman and Rod Beckstrom share some unexpected answers, gripping stories, and a tapestry of unlikely connections.
The Starfish and the Spider
argues that organizations fall into two categories: traditional "spiders," which have a rigid hierarchy and top-down leadership, and revolutionary "starfish," which rely on the power of peer relationships.
The Starfish and the Spider explores what happens when starfish take on spiders (such as the music industry vs. Napster, Kazaa, and the P2P services that followed). It reveals how established companies and institutions, from IBM to Intuit to the US government, are also learning how to incorporate starfish principles to achieve success. The book explores:
How the Apaches fended off the powerful Spanish army for 200 years
The power of a simple circle
The importance of catalysts who have an uncanny ability to bring people together
How the Internet has become a breeding ground for leaderless organizations
How Alcoholics Anonymous has reached untold millions with only a shared ideology and without a leader

Reviews
"The Starfish and the Spider is a compelling and important book."
—Pierre Omidyar, CEO, Omidyar Network and Founder and Chairman, eBay Inc.
"The Starfish and the Spider, like Blink, The Tipping Point, and The Wisdom of Crowds before it, showed me a provocative new way to look at the world and at business. It's also fun to read!"
—Robin Wolaner, founder, Parenting Magazine and author, Naked in the Boardroom
"A fantastic read. Constantly weaving stories and connections. You'll never see the world the same way again."
—Nicholas J. Nicholas Jr., former Co-CEO, Time Warner
"A must-read. Starfish are changing the face of business and society. This page-turner is provocative and compelling."
—David Martin, CEO, Young Presidents' Organization
"The Starfish and the Spider provides a powerful prism for understanding the patterns and potential of self-organizing systems."
—Steve Jurvetson, Partner, Draper Fisher Jurvetson
"The Starfish and the Spider lifts the lid on a massive revolution in the making, a revolution certain to reshape every organization on the planet from bridge clubs to global governments. Brafman and Beckstrom elegantly describe what is afoot and offer a wealth of insights that will be invaluable to anyone starting something new—or rescuing something old—amidst this vast shift."
—Paul Saffo, Director, Institute for the Future
"The Starfish and the Spider is great reading. [It has] not only stimulated my thinking, but as a result of the reading, I proposed ten action points for my own organization."
—Professor Klaus Schwab, Executive Chairman, World Economic Forum

About the Authors
Ori Brafman
is a lifelong entrepreneur. His adventures include a wireless startup, health food advocacy group, and a network of CEOs working on public benefit projects, which he co- founded with Rod. He holds a BA in Peace and Conflict Studies from UC Berkeley and an MBA from Stanford Business School.
Rod A. Beckstrom
is a serial start-up entrepreneur. He founded CATS Software Inc, which he took public and has helped start and build other high tech firms. Rod has served on various private and nonprofit boards. He holds a BA and MBA from Stanford and is a Fulbright Scholar.

Find Items On Similar Subjects

The Chaos Imperative
: How Chance and Disruption Increase Innovation, Effectiveness, and Success

The Future of Management