Whatever You Think, Think the Opposite
Paul Arden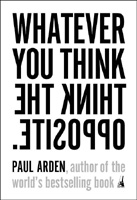 Format:
Paperback, 160pp.
ISBN:
9781591841210
Publisher:
Portfolio Trade
Pub. Date:
March 10, 2006
Average Customer Review:

For Bulk Orders Call: 626-441-2024

Description and Reviews
From
The Publisher:
There have been many books written on good business practice. All eminently sensible. All based on logic, common sense, and good manners. This book is essential if you want to be a supermarket manager. But for those wishing to break new ground, it is not enough. Logic and common sense have a habit of leading us to the same conclusions. If you are going to make your mark on the world, you have to start thinking differently. To think differently, you have to think illogically. "Whatever You Think Think The Opposite" looks at life the wrong way, in a bid to explain the benefits of making wrong decisions.

Reviews
Referring to his first book, It's Not How Good You Are, It's How Good You Want to Be, Arden describes himself as "author of world's bestselling book," ably demonstrating one nugget of wisdom to be found in his latest: "Great people have great egos; maybe that's what makes them great." Otherwise, the book suggests that Arden is less a great person (or a great author) than a great former creative director at advertising powerhouse Saatchi and Saatchi. In the restrictive, often repetitive genre of management by aphorism, Arden is an original: master of the snappy maxim and eye-catching graphic, Arden advocates unconventional thinking, skipping college, taking risks, being outrageous and failing dramatically. Missing is a page in this book emblazoned "Take my advice with a grain of salt," or "Triumph for an advertising copywriter may be disaster for an accountant." Nevertheless, Mr. Arden's books are a pleasure to peruse. His writing is spare, clever, brisk and pointed. Illustrations are clean and witty. Think you whatever, this book is a natty little addition to the business bookshelf.
—Publishers Weekly, Copyright © Reed Business Information, a division of Reed Elsevier Inc. All rights reserved.

About the Author
Advertising guru
Paul Arden
is a creative genius whose extraordinary drive and energy is allied to a kind of common sense that just isn't, well, common. Paul Arden began his career in advertising at the age of 16. Formerly Creative Director at Saatchi and Saatchi, he is responsible for some of Britain's best known campaigns including British Airways, Silk Cut, Anchor Butter, InterCity and Fuji and famous slogans which include 'The Car in front is a Toyota' and 'The Independent - It Is - Are You?'. In 1993 he set up the London-based production company Arden Sutherland-Dodd where he is now a commercials director for clients such as BT, BMW, Ford, Nestle and Levis. Author's Residence: London.

Find Items On Similar Subjects

It's Not How Good You Are, It's How Good You Want to Be