Ten Rules for Strategic Innovators
: From Idea to Execution
Vijay Govindarajan and Chris Trimble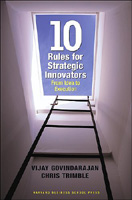 Format:
Hardcover, 224pp.
ISBN:
9781591397588
Publisher:
Harvard Business School Press
Pub. Date:
December 1, 2005
Average Customer Review:

For Bulk Orders Call: 626-441-2024

Description and Reviews
From
The Publisher:
Building a New Business within a Profitable Old One
Even world-class companies, with powerful and proven business models, eventually discover limits to growth. That's what makes emerging high-growth industries so attractive. Although they lack a proven formula for making a profit, these industries represent huge opportunities for the companies that are fast enough and smart enough.
But constructing tomorrow's businesses while simultaneously sustaining excellence in today's demands a delicate balance. It is a quest fraught with contradiction and paradox. Until now, there has been little practical guidance.
Based on an in-depth, multiyear research study of innovative initiatives at ten large corporations, Vijay Govindarajan and Chris Trimble identify three central challenges: forgetting yesterday's successful processes and practices; borrowing selected resources from the core business; and learning how the new business can succeed. The authors make recommendations regarding staffing, leadership roles, reporting relationships, process design, planning, performance assessment, incentives, cultural norms, and much more.
Breakthrough growth opportunities can make or break companies and careers. Ten Rules for Strategic Innovators is every leader's guide to execution in unexplored territory.

Reviews
In such a slowly growing world, strategic innovation is critical to success. Govindarajan and Trimble offer concrete rules that managers can use to drive growth. Their emphasis on "theory focused planning" is a good fit with high-performance company culture. This book is a great addition to your toolkit.
—Jeffrey R. Immelt, CEO, General Electric Company
The slow-growth global economy creates opportunities for those who dare to innovate and experiment with new strategy concepts. Govindarajan and Trimble suggest a compelling approach for how to execute these concepts, backed by real-life examples.
—Ram Charan, coauthor, Execution and Confronting Reality
This book provides specific examples of the themes of forgetting, borrowing, and learning, highlighting them as key to innovation. Many companies get lost in the middle of the innovation process, but these authors show how to turn breakthrough ideas into breakthrough growth.
—John B. Menzer, President and CEO, Wal-Mart International
Ten Rules for Strategic Innovators makes a compelling case: In today's complex marketplace, the survival of the fittest is determined by a company's aggressive pursuit of growth—that is, creating, leveraging, managing, and sustaining it. Govindarajan and Trimble's analysis shows just how vulnerable established companies are, and how they can avoid failure by unlocking themselves from a narrow and nostalgic business model.
—Robert L. Nardelli, Chairman, President & CEO, The Home Depot, Inc.
Strategic innovation is the major source of economic value creation for investors and for our society. Yet mature corporations often fail at this very important activity—not because of the lack of ideas but because of the lack of execution skills. Ten Rules for Strategic Innovators is a wonderful primer on how to execute and is a must-read for any senior executive interested in how to successfully grow and innovate.
—Glenn A. Britt, Chairman and CEO, Time Warner Cable, Inc.
Govindarajan and Trimble have produced an enormously important book! The challenges of building growth businesses inside existing organizations are well known; the solutions are not. In Ten Rules for Strategic Innovators the authors have combined solid theory, relevant case examples, and simple wisdom. . . . The notions of forgetting, borrowing, and learning will likely become major bases of logic in our organization.
—Leonard A. Schlesinger, Vice Chairman and Chief Operating Officer, Limited Brands, Inc.

About the Authors
Vijay Govindarajan
received his Ph.D. from Harvard University in 1978. He is the Earl C. Daum 1924 Professor of International Business at the Amos Tuck School of Business Administration at Dartmouth College. Professional credits include Outstanding Teacher of the Year, voted by MBA students during several academic years; and Outstanding Business School Faculty, named by
Business Week
.

Find Items On Similar Subjects

Dealing with Darwin
: How Great Companies Innovate at Every Phase of Their Evolution

The Ten Faces of Innovation