Taking Advice
: How Leaders Get Good Counsel And Use It Wisely
Dan Ciampa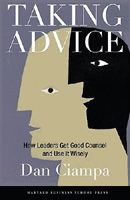 Format:
Hardcover, 272pp.
ISBN:
9781591396680
Publisher:
Harvard Business School Press
Pub. Date:
September 30, 2006
Average Customer Review:

For Bulk Orders Call: 626-441-2024

Description and Reviews
From
The Publisher:
Ciampa makes the argument that almost all of the thought and commentary regarding advice has been from the "supply side," i.e. on being a good advisor or consultant (or consultancy). But this view, Ciampa argues, is of necessity incomplete. In order to have a more whole and useful view of advice, we need a better way of thinking about the "demand side." I.e., we need a theory of advice-taking for corporate/organizational leaders, as well as principles and advice on how to take advice in practice.
Some important themes or components of the book include: the "help paradox," or the notion that more people and firms are offering advice (and more money is being spent on such advice) than ever before, and yet there are indications of less satisfaction by those who take advice, particularly when the help is needed in political, emotion-charged, high-stakes situations. Also, the idea that traditional consulting services in strategy or operations are more focused on rational data analysis than on "the more visceral abilities of counsel, where success depends on harder-to-learn skills such as listening with empathy, giving delicate or difficult feedback in an effective way, and influencing a strong leader to change his/her behavior."
Good advice is often what bridges the gap between a leader's vision and effective realization and implementation of that vision; or, perhaps, more importantly, between the distorted or incomplete vision of a leader, and a truer, more effective one. When there is a lack of advice solicited, or it's gotten from poorly chosen sources, this puts the leader and his vision in jeopardy, and this jeopardy can be manifested in all sorts of ways.
The book provides not only a sophisticated theory of advice-taking, but also lays out in separate chapters:
a practical typology of advice—strategic, operational, political, personal
the kinds of advisors—expert, experienced, sounding board, partner
attributes of the great advice taker

Reviews
"If you can't take advice, and put it to good use, you have no business calling yourself a leader. If you want to learn how to be a good advice taker and a more effective leader, you must read this book."
—Michael Watkins, Professor of Practice at INSEAD, founder of Genesis Advisers, and author of The First 90 Days
"No leader has all the answers all the time. Dan Ciampa has a unique skill in listening, engaging, and helping executives translate ideas into action. Taking Advice can help anyone who truly wants to improve their skills in finding the right kind of help and getting the most out of it."
—Brenda Barnes, Chairman & CEO, Sara Lee Corporation
"In Taking Advice Dan Ciampa has again broken new ground with a clear, practical guide to a topic that we all too often ignore."
—Travis Engen, former President & CEO Alcan Inc.
"As an executive, you may spend millions soliciting advice during your career. The compelling stories, engaging logic and tips in this book will help you understand how much of that money could be wasted and will help to ensure great decision making for the future. Take my advice, you really need to read this book!"
—Richard E. Boyatzis, Professor of Organizational Development and Psychology at Case Western Reserve University, bestselling co-author of Primal Leadership and Resonant Leadership
"Learning how to take advice is invaluable not only in a business context, but also in the context of health and medicine, relationships, personal finance, and life goals. In Taking Advice, Dan Ciampa conveys his experience and expertise in an enjoyable, interesting and easy to read book that is a "must read" for anyone wanting to improve and enhance their business or personal lives. Take my advice - learn from the expert!"
—Mark Liponis, Medical Director, Canyon Ranch Health Resorts

About the Author
Dan Ciampa
Advises leaders and boards of directors in three areas: CEO transition, operations improvement and culture change to make the improvements permanent, and top-level organization to implement new strategies.

Table of Contents
| | | |
| --- | --- | --- |
| | Preface | ix |
| | | |
| 1 | The Help Paradox | 1 |
| 2 | How Good Leaders Fail as Advice Takers | 13 |
| 3 | A New Framework for Advice Taking | 51 |
| 4 | Types of Advice: Strategic, Operational, Political, and Personal | 75 |
| 5 | Kinds of Advisers: Expert, Experienced, Sounding-Board, and Partner | 99 |
| 6 | The Art of Balance | 123 |
| 7 | Attitudes and Behavior of Great Advice Takers | 139 |
| 8 | Listening—the Master Skill—and Other Key Success Takers | 159 |
| | | |
| | Afterword: For Further Thought | 179 |
| | Notes | 183 |
| | Further Reading | 187 |
| | Index | 191 |
| | About the Author | 199 |

Find Items On Similar Subjects

Judgment
: The Essence of Leadership