Blue Ocean Strategy
: How to Create Uncontested Market Space and Make Competition Irrelevant
W. Chan Kim and Renée Mauborgne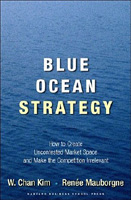 Format:
Hardcover, 256pp.
ISBN:
9781591396192
Publisher:
Harvard Business School Press
Pub. Date:
February 3, 2005
Average Customer Review:

For Bulk Orders Call: 626-441-2024

Description and Reviews
From
The Publisher:
Winning by Not Competing: A Fresh Approach to Strategy
Since the dawn of the industrial age, companies have engaged in head-to-head competition in search of sustained, profitable growth. They have fought for competitive advantage, battled over market share, and struggled for differentiation. Yet these hallmarks of competitive strategy are not the way to create profitable growth in the future.
In a book that challenges everything you thought you knew about the requirements for strategic success, W. Chan Kim and Renée Mauborgne argue that cutthroat competition results in nothing but a bloody red ocean of rivals fighting over a shrinking profit pool. Based on a study of 150 strategic moves spanning more than a hundred years and thirty industries, the authors argue that lasting success comes not from battling competitors, but from creating "blue oceans": untapped new market spaces ripe for growth. Such strategic moves-which the authors call "value innovation"- create powerful leaps in value that often render rivals obsolete for more than a decade.
Blue Ocean Strategy
presents a systematic approach to making the competition irrelevant and outlines principles and tools any company can use to create and capture blue oceans. A landmark work that upends traditional thinking about strategy, this book charts a bold new path to winning the future.

Reviews
"After reading
Blue Ocean Strategy
, you will never again see your competition in quite the same light. Kim and Mauborgne present a compelling case for pursuing strategy with a creative, not combative, approach. Their emphases on value innovation and stakeholder engagement alone make this book a must-read for both executives and students of business."
—Carlos Ghosn, President and CEO, Nissan Motor Co., Ltd.
"This is an extremely valuable book to read. It examines the experience of companies in areas as diverse as watches, wine, cement, computers, automobiles, and even the circus to shed new light on the development of future strategies."
—Nicolas G. Hayek, Cofounder and Chairman of the Board, Swatch Group
"I recommend
Blue Ocean Strategy
to any executive in the private or public sector. It shows how to break from the status quo, create a winning future strategy, and execute this fast at low cost. As much a practical guide as an eye-opener."
—William J. Bratton, Chief of the Los Angeles Police Department, former Police Commissioner of the City of New York
"Kim and Mauborgne's strategies are not only original but practical. Our company has used them and obtained powerful results. The authors chart a bold new path to winning the future."
—Patrick Snowball, Chief Executive, Norwich Union Insurance

About the Author
W. Chan Kim
is the Boston Consulting Group Bruce D. Henderson Chair Professor of Strategy and International Management at INSEAD.
Renée Mauborgne
is the INSEAD Distinguished Fellow and Professor of Strategy and Management.

Find Items On Similar Subjects

The World Is Flat
: A Brief History of the Twenty-first Century