One from Many
: VISA and the Rise of Chaordic Organization
Dee Hock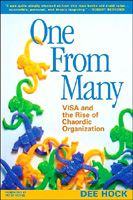 Format:
Paperback, 240pp.
ISBN:
9781576753323
Publisher:
Berrett-Koehler Publishers
Pub. Date:
October 10, 2005
Average Customer Review:

For Bulk Orders Call: 626-441-2024

Description and Reviews
From
The Publisher:
Revised paperback edition of Hock's award-winning Birth of the Chaordic Age, updated throughout and featuring two new chapters
The only first-person account of the rise of VISA, the world's largest business enterprise--in 2004, VISA's products were used by more than a billion people at 20 million locations in more than 150 countries
Hock, VISA's founder, details the revolutionary "chaordic" organizational philosophy that was instrumental in VISA's success
One From Many
tells the fascinating inside story of the creation of VISA, the largest business enterprise on Earth. Dee Hock provides a riveting account of how people and institutions of every conceivable language, culture, currency, and race were linked together in a commonly owned, $3.2 trillion non-stock, for-profit organization, one in which owner/members simultaneously engage in the most intense cooperation and the fiercest competition.
Hock skillfully weaves together the story of VISA with his own remarkable life story and elaborates the visionary philosophy that allowed VISA to thrive. Hock calls his approach "chaordic"--simultaneously chaotic and orderly. Hock makes a compelling argument that this organizational philosophy is a more supple, responsive and creative alternative to mechanistic Industrial Age models, one more in tune with what we see in nature.
One from Many
—revised throughout from its original hardcover publication as
The Birth of the Chaordic Age
—includes two new chapters in which Hock reflects on his post-VISA experiences as an advocate for chaordic principles, and details some examples of chaordic principles in action: the Internet, World Weather Watch, Alcoholics Anonymous, and others. Lyrical, playful, philosophical, and straight from the heart,
One From Many
challenges us to change forever the way we think about money, organizations, leadership, management, the human spirit, and our relationship to the natural world.

Reviews
"I was, quite simply, stunned at how this man broke old, staid rules in defining a new theory of social economics: accessible, personal, and deeply inspiring."
—Robert Redford
"The most original and apt approach to organizing we have been offered so far. It clearly fits the "must-read," "must-absorb" category for leaders in every sector."
—Tom Peters
"Dee Hock's insights are brilliant and humane, his prescription is smart and workable. This is a book that aspiring leaders need to embrace."
—Alan M. Webber, Founding Editor, Fast Company magazine
"Hock shows how to replace rigid bureaucracies with adaptable structures that breathe, innovate, respond, and recover.
One From Many
is an organizational revolution that the world ignores at its stagnant peril."
—Ralph Nader

About the Author
Dee Hock
is the founder and CEO Emeritus of VISA International. In 1968, he developed the concept of a global system for the electronic exchange of value and a unique new form of business organization for that purpose. In 1970, he founded the company that soon became VISA USA, followed by VISA International in 1974. Hock now leads The Chaordic Alliance, a nonprofit committed to the formation of practical, innovative organizations that blend competition and cooperation to address critical societal issues. He has worked with numerous influential people and organizations including Al Gore and the Clinton Administration's Reinventing Government initiative; the United Religions Initiative, Ralph Nader and the Harvard Law School Class of 1958's Appleseed Foundation, corporations affiliated with Peter Senge's Society for Organizational Learning, The Northwest Atlantic Marine Alliance, and an influential group of healthcare organizations including Blue Cross/Blue Shield, the Association of American Medical Colleges, and Kaiser Permanente.

Table of Contents
| | | |
| --- | --- | --- |
| | Foreword by Peter M. Senge | ix |
| | Introduction | xv |
| 1 | Old Monkey Mind | 1 |
| 2 | A Lamb and the Lion of Life | 15 |
| 3 | The Bloodied Sheep | 31 |
| 4 | Retirement on the Job | 43 |
| 5 | The Zoo | 59 |
| 6 | The House of Cards | 79 |
| 7 | Peeling the Onion | 89 |
| 8 | The Impossible Imagined | 101 |
| 9 | The Next to the Last Word | 115 |
| 10 | The Corporation or the Cane | 133 |
| 11 | And Then There Was One | 145 |
| 12 | Quite Ordinary People | 163 |
| 13 | The Victims of Success | 181 |
| 14 | The Golden Links | 195 |
| 15 | What's In a Name? | 213 |
| 16 | Breaking the Mold | 241 |
| 17 | The Successful Business Failure | 251 |
| 18 | The Jeweled Bearing | |
| 19 | Out of Control and into Order | 267 |
| 20 | The Emergent Phenomenon | 281 |
| | Acknowledgements | 293 |
| | Index | 295 |
| | About the Author | 307 |