The Tao of Warren Buffett
Warren Buffett's Words of Wisdom: Quotations and Interpretations to Help Guide You to Billionaire Wealth and Enlightened Business Management
Mary Buffett and David Clark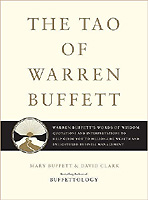 Format:
Hardcover, 192pp.
ISBN:
9781416541325
Publisher:
Scribner
Pub. Date:
November 21, 2006
Average Customer Review:

For Bulk Orders Call: 626-441-2024

Description and Reviews
From
The Publisher:
A collection of pithy and inspiring sayings from America's favorite businessman that reveal his secrets of success
Like the sayings of the ancient Chinese philospher Lao-tzu, Warren Buffett's worldly wisdom is deceptively simple and enormously powerful in application. In The Tao of Warren Buffett, Mary Buffett -- author of three books on Warren Buffett's investment methods -- joins noted Buffettologist and international lecturer David Clark to bring you Warren Buffett's smartest, funniest, and most memorable sayings with an eye toward revealing the life philosophy and the investment strategies that have made Warren Buffett, and the shareholders of Berkshire Hathaway, so enormously wealthy.
Warren Buffett's investment achievements are unparalleled. He owes his success to hard work, integrity, and that most elusive commodity of all, common sense. The quotations in this book exemplify Warren's practical strategies and provide useful illustrations for every investor -- large or small -- and models everyone can follow. The quotes are culled from a variety of sources, including personal conversations, corporate reports, profiles, and interviews. The authors provide short explanations for each quote and use examples from Buffett's own business transactions whenever possible to illustrate his words at work.
As Warren says:
"You should invest in a business that even a fool can run, because someday a fool will."

"With enough inside information and a million dollars, you can go broke in a year."

"No matter how great the talent or effort, some things just take time: You can't produce a baby in one month by getting nine women pregnant."

"Our method is very simple. We just try to buy businesses with good-to-superb underlying economics run by honest and able people and buy them at sensible prices. That's all I'm trying to do."
The Tao of Warren Buffett inspires, amuses, sharpens the mind, and offers priceless investment savvy that anyone can take to the bank. This irresistibly browsable and entertaining book is destined to become a classic.

Reviews
"This is destined to be the business world's Little Red Book that investors and managers will resort to over and over. David Clark and Mary Buffett have again captured the heart, soul, and ethos of Warren Buffett - giving us practical, lasting strategies we can use to improve our financial performance."
—Timothy Vick, Senior Portfolio Manager, The Sanibel Captiva trust Co., and author of How to Pick Stocks Like Warren Buffett

About the Authors
Mary Buffett
is an internationally bestselling author and a speaker on the investment methods of Warren Buffett. She gained her unique insight while married to Warren's son Peter for twelve years.
David Clark
is an internationally recognized authority on the subject of Buffettology and the managing partner of a private investment group in Omaha, Nebraska.

Find Items On Similar Subjects

The Snowball
: Warren Buffett and the Business of Life