The Leadership Wheel
: Five Steps for Achieving Individual and Organizational Greatness
C. Clinton Sidle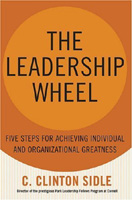 Format:
Hardcover, 256pp.
ISBN:
9781403969194
Publisher:
Palgrave Macmillan
Pub. Date:
September 17, 2005
Average Customer Review:

For Bulk Orders Call: 626-441-2024

Description and Reviews
From
The Publisher:
"Clinton Sidle reminds us that leadership development is not merely a one-time event but a critically important journey for individuals, teams, and organizations--a demanding process that requires the cultivation of genuine self-knowledge. The Leadership Wheel's call for enlightened and socially responsible leadership will benefit managers and executives at all levels and challenge them to lead more authentically."
—John Alexander, President, Center for Creative Leadership
"The Leadership Wheel provides a vision of enlightened leadership by pulling together the three spokes of authentic leadership--the leader, the organization, and society--into one integrated process. The Leadership Wheel is a great tool to navigate leaders and organizations toward sustainable value creation."
—Kevin Cashman, CEO, LeaderSource and author of Leadership from the Inside Out and Awakening the Leader Within
"The Leadership Wheel reaffirms the critical importance of having the basis for leadership development being self awareness, self-discovery, and a deep inner journey that circles back through life to enhance one's self development, the development of others, and performance. The Leadership Wheel demonstrates through numerous exercises how leadership development can be learned each and every day."
—Bruce Avolio, Director, Gallup Leadership Institute
"This book is worth reading for its very comprehensive and human way of viewing leadership. What gives even more value is the way Sidle shows precisely how to use the Wheel in working with teams and leaders. The book is a valuable asset for anyone committed to developing leaders."
—Peter Block, author of The Answer to How Is Yes and Stewardship, and co-author, with Peter Koestenbaum, of Freedom and Accountability at Work
"The Leadership Wheel reveals an inspiring and original five point picture of what it takes to be an emotionally intelligent, resonant leader. Clint Sidle has managed to combine fresh and important insights with practical advice for developing resonant leaders, great teams, and vibrant, successful organizations. Great exercises!" -- Annie McKee, Co-Chair of the Teleos Leadership Institute "Clint Sidle's model offers an inspiring and genuinely new approach to servant leadership. This lively, engaging book challenges people to rethink their roles and the purposes of business. The Leadership Wheel clearly demonstrates that financial success and socially responsible business are not mutually exclusive. Best of all, chapter exercises guide the reader on how to make it happen at the individual, team, and organizational levels."
—Ken Blanchard, co-author of The One Minute Manager® and The Servant Leader

About the Author
C. Clinton Sidle
is director of the prestigious Park Leadership Program in the Johnson School of Management at Cornell University and a top consultant in strategic change, teambuilding, and leadership development. His program has been taught at universities such as Wharton and Duke. His consulting clients include Corning Inc., Kellogg, the American Red Cross, and many others.

Find Items On Similar Subjects

Leadership Can Be Taught
: A Bold Approach for a Complex World