The Strategy-Focused Organization
: How Balanced Scorecard Companies Thrive in the New Business Environment
Robert S. Kaplan and David P. Norton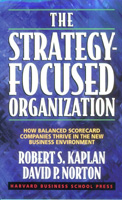 Format:
Hardcover, 416pp.
ISBN:
9781578512508
Publisher:
Harvard Business School Press
Pub. Date:
September 2000
Average Customer Review:

For Bulk Orders Call: 626-441-2024

Description and Reviews
From
The Publisher:
Putting Strategy at the Heart of the Organization: A Powerful New Approach to Performance Management
from the Creators of the
Balanced Scorecard
In today's business environment, strategy has never been more important. Yet research shows that most companies fail to execute strategy successfully. Behind this abysmal track record lies an undeniable fact: many companies continue to use management processes-top-down, financially driven, and tactical-that were designed to run yesterday's organizations.
Now, the creators of the revolutionary performance management tool called the Balanced Scorecard introduce a new approach that makes strategy a continuous process owned not just by top management, but by everyone. In The Strategy-Focused Organization, Robert Kaplan and David Norton share the results of ten years of learning and research into more than 200 companies that have implemented the Balanced Scorecard. Drawing from more than twenty in-depth case studies-including Mobil, CIGNA, Nova Scotia Power, and AT&T Canada-Kaplan and Norton illustrate how Balanced Scorecard adopters have taken their groundbreaking tool to the next level. These organizations have used the scorecard to create an entirely new performance management framework that puts strategy at the center of key management processes and systems.
Kaplan and Norton articulate the five key principles required for building Strategy-Focused Organizations: (1) translate the strategy to operational terms, (2) align the organization to the strategy, (3) make strategy everyone's everyday job, (4) make strategy a continual process, and (5) mobilize change through strong, effective leadership. The authors provide a detailed account of how a range of organizations in the private, public, and nonprofit sectors have deployed these principles to achieve breakthrough, sustainable performance improvements.
Presenting a practical, proven framework steeped in rich case study experience, The Strategy-Focused Organization helps solve a universal management problem-not just how to formulate strategy, but how to make it work. Building on one of the most revolutionary business ideas of our time, this important book shows how today's leaders can shape their own companies to meet the challenges and reap the rewards of a new competitive era.
Named the Best International Business Book of the Year 2000 by Cap Gemini Ernst & Young.

Reviews
"The Strategy-Focused Organization is a great example of how practical management concepts grounded in solid research grow in usefulness. History will judge this to be one of the most important books on strategy ever written because it bridges the chasm between concept and implementation. Every manager should read it."
—Clayton Christensen, Professor, Harvard Business School, and Author, The Innovator's Dilemma
"Kaplan and Norton chronicle the long-overdue shift from management 'by the numbers' to a performance management process that places well-articulated, knowledge-based strategies at the center of every employee's activities. Given the pace of change in the new economy, strategy-focused processes that are measurable, repeatable, and supported by superior information are the only true sources of sustainable competitive advantage. Organizations that ignore this reality do so at their own risk."
—James H. Goodnight, President & CEO, SAS
"The Balanced Scorecard is an innovative performance management tool that provides enormous help in tackling the tough job of managing state government for results."
—Gary Locke, Governor, State of Washington
"Kaplan and Norton's framework is clearly taking hold as a business model for today and tomorrow. Our own Balanced Scorecard journey has allowed us not only to 'tell the story of our strategy' and deliver positive results for our stakeholders, but to unite our team members around a system that measures, rewards, and motivates performance based on achieving goals that move our company forward."
—Dieter Huckestein, Hotel Division President, Hilton Hotels Corporation
"The Strategy-Focused Organization recognizes and reinforces organization issues and moves the Balanced Scorecard from a strategic imperative to a business result. Leaders in all functions-and at all levels-will find it a useful blueprint for turning strategy into action."
—Dave Ulrich, Professor of Business Administration, University of Michigan

About the Authors
Robert S. Kaplan
is the Marvin Bower Professor of Leadership Development at Harvard Business School.
David P. Norton
is the President of the Balanced Scorecard Collaborative, Inc.

Find Items On Similar Subjects

The Balanced Scorecard
: Translating Strategy into Action