Moving Mountains
: Lessons on Life and Leadership
Reinhold Messner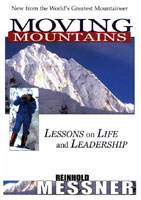 Format:
Hardcover, 250pp.
ISBN:
9781890009908
Publisher:
Executive Excellence
Pub. Date:
March 2001
Average Customer Review:

For Bulk Orders Call: 626-441-2024

Description and Reviews
From
The Publisher:
What thoughts and feeling occupy us when we face our highest personal mountains? How can we be dedicated in pursuit of our goals, despite daunting hardships? This inspiring book is the best of best-selling author Reinhold Messner, the first person to reach the summit of Everest solo and without supplemental oxygen. Organized around his lessons on life and leadership, this book outlines the secrets to overcoming failure, pushing the limits of the feasible, and achieving lasting success.
Like most genuine leaders, Messner transcends his field (mountain climber and expedition leader) and assumes a larger-than-life public image and persona. Privately, he remains a craftsman first, but his feats and his fame have also made him a spokesman. And in both areas, he is a proven winner. It is one thing to have survived a few near death experiences on mountains and in deserts and ice fields, but it is quite another to have learned so much and shared so deeply with the intent to benefit other people.
Moving Mountains
describes the lessons Messner learned through a life of breaking through mental and physical barriers. From their reading of the book, individuals, teams, and organizations will learn the skills necessary to pick themselves up and move beyond their trials and failures so that they too can reach unparalleled heights of success.

About the Author
The world's most famous mountaineer,
Reinhold Messner
, was born in South Tyrol, Italy on September 17, 1944. In 1978, he a Peter Habeler accomplished the impossible, climbing Everest without oxygen. In that same year, he pioneered a new route and climbed Nanga Parbat alone. Two years later, he succeeded in a solo expedition to the summit of Everest during the monsoon season, regarded as the greatest mountaineering feat of all time, and established his place as one of the world's greatest mountaineers.
Messner then set his sights on being the first to climb all 14 of the world's 8,000-meter peaks, which he accomplished on October 16, 1986, when he reached the summit of Lhotse. During that period he also became the first to score a "hat trick" by climbing three 8,000-meter peaks in one season. After achieving that goal, he went on to set and achieve others, including climbing the tallest mountain on all seven continents. The last mountain he climbed to reach this goal was Mt. Vinson in Antarctica at a temperature of minus 50 degrees Celsius. In 1990, he set another first when he was the first man to cross the Antarctic continent on foot.
When not off on an adventure, Messner lives in Juval Castle in South Tyrol where he runs an art museum and an organic farm. He also pursues his other careers as a writer, photographer, and member of the European Parliament. Messner also lectures throughout the world, makes documentary films, contributes articles to several magazines, and is an active preservationists of wilderness areas. He is author of more than 40 books.

Find Items On Similar Subjects

Shackleton's Way
: Leadership Lessons from the Great Antarctic Explorer