Thinking Clockwise
: A Field Guide for the Innovative Leader
Dennis Stauffer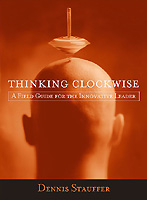 Format:
Hardcover, 112pp.
ISBN:
9780964042933
Publisher:
MinneApplePress
Pub. Date:
July 2004
Average Customer Review:

For Bulk Orders Call: 626-441-2024

Description and Reviews
From
The Publisher:
Innovation is not an option; it's a necessity. To survive and prosper in the 21st century, it's imperative that businesses find ways to bring great ideas to the surface and implement them, not just once but continuously.
In any company or organization there are thousands of ways to do things better, to add value and lower costs. Some involve ambitious projects. Others are things that one employee could start doing tomorrow. Most are ideas waiting to be discovered.
Every day in every business new problems arise that must be solved. Addressing those problems quickly and without disruption requires improvisation, the ability to generate fresh insights and act on them in real time.
Meeting those challenges demands a change in how employees think and in the way managers lead—a change in culture. This book provides a unique and powerful strategy to achieve that, one that is both highly imaginative and brutally pragmatic—a manifesto for a new and innovative way of doing business.
Discover a unique and powerful way to confront your most urgent business issues…
Adapt and readapt your business to a rapidly changing marketplace.
Develop breakthrough products that will wow your customers.
Accelerate growth and change without the wheels coming off.
Generate better ideas and insights that really work.
Recognize new challenges and opportunities.
Find the next round of efficiencies.
Enhance productivity, teamwork, commitment, and collaboration.
Build an Innovation Engine!

"The quest for knowledge and insight is like climbing a mountain. You start alone among the trees and ravines. Then as you get to the heights, you see others who have been climbing different routes yet getting to the same place. Dennis Stauffer has found a great route to understanding the thinking processes that lead to innovation and change, as well as the process that stalls people into stagnant spirals. Thinking Clockwise is concise, easy to read, and packed with insights, wisdom, and examples of how people think and why some environments facilitate change, while others poison it."
—–Art Fry, 3M Corporate Scientist • Inventor of Post-It Notes
"Dennis Stauffer presents complex ideas in a clear and easy-to-understand manner. Business leaders will find this book a quick and practical take on leadership in a rapidly changing environment."
—–Mary Ann Allison, Author of The Complexity Advantage,
Chairman, The Allison Group

About the Author
Dennis Stauffer
is an Emmy Award winning journalist, author and former business editor who executive leadership positions, where he's left a trail of innovations. Dennis speaks, writes, and consults on business innovation and innovative leadership and is the founder of the firm Insight Fusion.

Table of Contents
| | | |
| --- | --- | --- |
| | Clockwise Thinking | 3 |
| | Insight Trumps Knowledge | 5 |
| | Clockwise Defined | 8 |
| | The Insight Loop | 10 |
| | The Knowledge Loop | 15 |
| | Harnessing Feedback | 19 |
| | A Feedback Matrix | 23 |
| | Two Ways of Thinking | 25 |
| | Clockwise Values | 27 |
| | Counterclockwise Values | 31 |
| | Counterclockwise Attributes | 34 |
| | Clockwise Attributes | 48 |
| | Innovative Leadership | 63 |
| | Building an Innovation Engine | 65 |
| | Innovation Environment | 68 |
| | Thinking Sets the Environment | 75 |
| | The Clockwise Organization | 78 |
| | Innovative Leadership Attributes | 81 |
| | Finding Balance | 95 |
| | The Big Stuff | 97 |
| | Added Benefits | 99 |
| | Clockwise Accountability | 101 |
| | Making Success Inevitable | 103 |

Find Items On Similar Subjects

Finding Our Way
: Leadership for an Uncertain Time