A New Paradigm of Leadership
: Visions of Excellence for Tomorrow's Organizations
Edited by Ken Shelton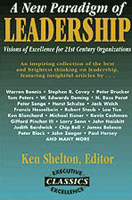 Format:
Hardcover, 264pp.
ISBN:
9781890009182
Publisher:
Executive Excellence
Pub. Date:
1997
Average Customer Review:

For Bulk Orders Call: 626-441-2024

Description and Reviews
From
The Publisher:
Excellence requires looking at things from fresh perspectives. This compilation offers fresh perspectives on leadership from top CEOs and consultants, who answer questions like:
How can leaders make the transition to the new paradigm of continuous change and increased flexibilty?
How can leaders form partnerships with their employees that allow for increased teamwork and empowerment, for bolder decisions, and for performance-based pay while maintaining the balance between growth and profitability?
This compilation features articles from the perspectives of CEOs, senior managers, and top consultants, as they address topics such as change leadership, qualities of effective leaders, connecting with followers, and leadership vision.

Reviews
A vital part of leadership is to continuously learn.
A New Paradigm of Leadership
provides that opportunity from a selection of the very best. The book is a winner, for it enables those who read it to see the vision of tomorrow's organizations.
—Horst H. Schulze, president of The Ritz-Carlton Hotel Company

About the Editor
Ken Shelton
is chairman and editor-in-chief of Executive Excellence Publishing, publisher of
Executive Excellence
and
Personal Excellence
magazines. In the past 15 years Shelton has written over 500 articles for publication, co-written best-selling books, and drafted award-winning copy for ads, brochures, and scripts. He has also organized and conducted marketing campaigns to promote certain people, organizations, products, and ideas connected with personal and professional development. He has served as a business and marketing consultant to many chief executives, authors, and publishers.
Table of Contents
Introduction: Leaders at Every Level Ken Shelton
Section I: Changing Times
1. Leadership in the 21(ST) Century Warren Bennis
2. 21(ST) Century Leadership
Lynne Joy McFarland
Larry E. Senn
3. From Counterfeit to Authentic Leadership Ken Shelton
4. A Time of 10,000 Leaders John W. Humphrey
5. Leading the New Organization James A. Belasco
6. Leadership for Changing Times Robert R. Fogleman
7. SuperLeadership
Charles C. Manz
8. The Essence of Leadership Horst Shultze
Kevin Dimond
9. People Leadership Francis N. Bonsignore
10. Leadership: Charisma or Competence?
Gerald L. McManis
11. The Best Leadership
David L. Neidert
12. Big Is Beautiful John F. Welch, Jr.
Section II: Qualities of Leadership
13. Brave Leadership Tom Peters
14. Leading in Crises
Eileen McDargh
15. Limitless Leadership
Lou Tice
16. Leading by Compass
Stephen R. Covey
17. Tough-Minded Leaders Joe Batten
18. Leader as Learner
Michael E. Quigley
19. Leading Learning Organizations Peter Senge
20. Strategic Leadership Francis Hesselbein
21. Creative Leadership
Michael Eisner
22. Credible Leadership
James M. Kouzes Barry Z. Posner
23. Entrepreneurial Leadership Gifford
Elizabeth Pinchot
24. Quality Leaders
W. Edwards Deming
25. Management vs. Leadership Hugh Nibley
Section III: Leaders and Followers
26. New Leadership John Naisbitt
Patricia Aburdene
27. Five Keys to Effective Leadership Eric Stephen
R. Wayne Pace
28. Principles of Leadership
J. Oliver Crom
29. Leader as Model and Mentor
Daniel I. Kaplan
30. Situational Leadership Kenneth Blanchard
31. Leading Teams
Jeanne M. Wilson Richard S. Wellins
32. Leading in a Team Environment John H. Zenger
33. High-Involvement Leadership Ann Howard
34. Reassigning Responsibility Peter Block
35. Leader as Servant
Ken Melrose
36. Lead

Find Items On Similar Subjects

Leader to Leader
: Enduring Insights on Leadership from the Drucker Foundation's Award-Winning Journal