Great Leadership
: What It Is and What It Takes in a Complex World
Antony Bell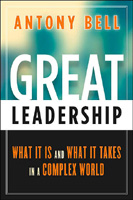 Format:
Paperback, 232pp.
ISBN:
9780891063971
Publisher:
Davies-Black Publishing
Pub. Date:
February 16, 2011
Average Customer Review:


For Bulk Orders Call: 626-441-2024

Description and Reviews
From
The Publisher:
Responding to the growing demand for leadership that is both competent and principled, leadership development expert Antony Bell offers an easy-to-grasp, workable framework that gets to the very heart of what defines greatness: knowledge, skills, and talents combined with the inner qualities of a leader that drive noble actions.
For any current or aspiring leader looking to take charge of his or her growth,
Great Leadership
traces leadership's evolution, pulling together the research and writings of such eminent thinkers as Rosabeth Moss Kanter and Warren Bennis, Daniel Goleman and John Kotter into a coherent and practical whole that makes complexity manageable and leadership development as simple as possible. Bell introduces his Three Dimensions of Leadership model and plenty of practical tools to help assess when and how to achieve greatness in leading organizations, operations, and people. And integrating leader development with organization development, he demonstrates clearly what results when leadership is effectively practiced in its three main dimensions: employees align with the organization's mission, commit their heart and soul to improving their productivity, and collectively contribute to improving the corporate bottom line.

"Great Leadership really makes sense of what great leadership looks like. It combines profound insight with a very practical and usable framework to exercise great leadership, and in doing so, it fills a void in the literature on leadership. Corporate leaders—at all levels—should read and assimilate it. I highly recommend this wonderful book."
—The Honorable Jack Kemp, former Congressman, Cabinet Secretary, and Vice-Presidential candidate
"This is a great book for people who want to give serious thought to the application of great leadership. It is for those who are looking for more than superficial answers and who are willing to embrace the importance of both character and competence—the two themes around which the book is structured. This is an erudite work and reads very well."
—John A. Kaneb, Chairman Gulf Oil Company, President of Catamount Companies, partner in the World Champion Boston Red Sox baseball franchise, Trustee University of Notre Dame.
"Tony Bell's Great Leadership is a must read for professionals from all sectors. It dissects the art of leadership into the critical elements of competence and character. The use of dynamic examples and easily understood models brings this often times complex subject to life. This is a great primer for junior and senior leaders alike and easily converted into a meaningful and purposeful development program."
—Lawson W. Magruder III, Lieutenant General, US Army RetiredLed the Somalia Campaign.
A must read for anyone even remotely interested in leadership today.
—Al Walker, business consultant, author of "Thinking Big and Living Large," past president of the National Speakers' Association.


Reader's Index
• "Humility is rare in leaders, but when it's there, it's powerful. It's powerful because it's disarming." Pg. 74

About the Author
Antony Bell
is cofounder and managing partner of Leader Development, Inc., whose nationwide consulting partners have worked with such clients as Allied Signal, Bose Corporation, and March of Dimes on issues of leadership development and organizational change. An adjunct faculty member of the Daniel School of Management at the University of South Carolina, he is an international speaker and noted specialist in coaching executive teams for clients, including Nike South Africa and British Telecom.

Table of Contents
Preface
xv
Part 1
THE FOUNDATIONS FOR GREAT LEADERSHIP
Clarity from Confusion
1
The Importance of a Leadership Framework: Understanding What's at Stake
3
2
The Source of Our Confusion: Understanding and Resolving the Complexity of Leadership
17
3
The Complete Picture on Leadership: Understanding the Anatomy of Leadership
33
Part 2
CHARACTER IN LEADERSHIP
Soul, Heart and Mind
4
The Soul of the Leader: Looking at Your Leadership Style - From the Inside Out
51
5
The Heart and Mind of the Leader: Embracing the Personal Qualities of Great Leadership
69
Part 3
COMPETENCE IN LEADERSHIP
Knowledge, Skill and Talent
6
The Three Dimensions of Leadership: Finding the Right Leadership Mix for the Right Leadership Role
95
7
The Mystery of Organizations: Understanding How Your Organization Works - and How to Shape It
111
8
The Practice of Organizational Leadership: Sustaining the Relevance and Impact of Your Organization
131
9
The Practice of Operational Leadership: Creating the Efficiencies of Your Organization
159
10
The Practice of People Leadership: Bringing Out the Best in Your People
181
Conclusion: Your Leadership Development Curriculum
199
About the Author
203
Index
205

Find Items On Similar Subjects

The Connected Leader