The Next Level
: What Insiders Know About Executive Success
3rd Edition
Scott Eblin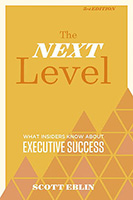 Format:
Hardcover, 320pp.
ISBN:
9781473690554
Publisher:
Nicholas Brealey Publishing
Pub. Date:
3rd edition - October 30, 2018
Average Customer Review:

For Bulk Orders Call: 626-441-2024

Description and Reviews
From
The Publisher:
For more than a decade, The Next Level has been an indispensable guide to executive success. It reads like a series of conversations with a trusted coach who has brought together a cadre of successful senior leaders to deliver a master class on executive level best practices.
This practical, actionable guide to success at the executive level helps readers understand what they need to pick up and let go of to achieve the results that are expected at the next level. Along with simple and immediately applicable tools and frameworks he's road-tested with thousands of coaching clients, Eblin offers clear, practical advice reinforced by interviews and case studies from executives who know what it takes to succeed. With fresh insights throughout, this 3rd edition will help readers sustain their success over the long run with new information on how to develop a personal action plan for leading at their best by living at their best.
NEW TO THIS EDITION:
1. Updated Introduction and Afterword
2. New insights on leadership effectiveness gleaned by the author since the 2nd edition
3. A completely revised chapter 3 with new guidance on creating a Life GPS personal action plan
4. New and updated Coachable Moment tools (including the TRACK Model of Effective Delegation)
5. A revised appendix with the latest approach to creating a self-directed Executive Success Plan (ESP)

Reviews
"Scott Eblin is back with a timely update to a leadership classic. The 3rd edition of The Next Level is full of potentially career saving advice for executives and managers who have to get bigger results."
—Marshall Goldsmith, #1 New York Times bestselling author of Triggers, MOJO and What Got You Here Won't Get You There
"The Next Level is as close as you can get to having a personal coach to advise and counsel you on your leadership journey. It reads like a series of 'Let's figure it out' conversations with a trusted and highly experienced executive coach-which Scott Eblin is-and you will be delighted that you chose him to be your confidante and guide. I highly recommend you read and use this book."
—Jim Kouzes, coauthor of the bestselling book, The Leadership Challenge and the Dean's Executive Fellow of Leadership, Leavey School of Business, Santa Clara University
"Working with Scott Eblin helped me to lead with authenticity and impact through a series of complex challenges. Reading The Next Level is like being in conversation with Scott as your trusted advisor, offering practical yet powerful advice for leading at your best by living at your best."
—Lara L. Lee, President, Orchard Supply Hardware (division of Lowe's Home Improvement)
"For leaders in transition, The Next Level is a vital resource not just on what to do, but how to be. It's full of the real-world, road-tested strategies and tactics that successful executives use to raise their game when the game gets bigger."
—Sydney Finkelstein, Professor of Leadership at the Tuck School of Business at Dartmouth College and bestselling author of Superbosses
"Scott Eblin is an insightful executive coach who partnered with me on my journey as I moved into senior leadership. We connected immediately because we both believe that to lead at your best, you have to live at your best. The Next Level is an essential guide for executives who know they need to do both."
—Jacqueline Akerblom, West Region Managing Partner, Grant Thornton
What's so powerful and useful for leaders about The Next Level is the fundamental dynamic at its center: Pick This Up, Let That Go. Scott Eblin, a master coach, offers practical solutions for leaders with a commitment to being and staying human in this busy, complex world."
—Michael Bungay Stanier, author of the Wall Street Journal bestseller, The Coaching Habit
"The Next Level is my go-to guide for executive leadership transitions. I use Scott's simple yet highly effective approach often as I coach leaders who need to 'senior up' and hit the ground running in bigger and more complex executive roles. The Next Level will continue to be the dog-eared book on my desk and in my business travel bag for many years to come."
—Tammy Heller, Senior Vice President and Chief Human Resources Officer, Perspecta
"There are a lot of books out there on leadership but what sets this one apart is the approach. Scott Eblin isn't just talking fluff, he's sharing real-world advice from his experience and the experience of those who've been there in order to help you learn from their combined wisdom. Don't pass it by. The Next Level is a vital resource for you and your team."
—Keith Ferrazzi, #1 NY Times bestselling author, Who's Got Your Back and Never Eat Alone
"Leadership presence is often discussed but rarely clearly defined. But Scott Eblin does just that in a modern, practical and actionable way with the 3rd edition of The Next Level. It's full of gems of sound advice for executives and managers who want to deliver big results while leading and living at their best."
—Cara Bauer, Executive Director, Talent Management, Amgen

About the Author
Scott Eblin
is president of The Eblin Group, a leadership development firm committed to helping executives lead and live at their best. As a recognized expert on leadership, global speaker, best-selling author, and executive coach, Scott works with many of the world's best-known companies and organizations. Eblin is an honors graduate of Davidson College and holds a master's degree in public administration from Harvard University. He has a certificate in leadership coaching from Georgetown University and was a 10 year faculty member of that program. He is also a Registered Yoga Teacher.

Find Items On Similar Subjects

Overworked and Overwhelmed
: The Mindfulness Alternative

Executive Intelligence
: What All Great Leaders Have