The Warrior Within
: Becoming Complete in the Four Crucial Dimensions of Manhood
Pat Williams with Jim Denney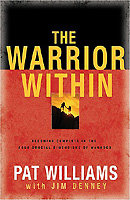 Format:
Paperback, 176pp.
ISBN:
9780830742707
Publisher:
Regal Books
Pub. Date:
April 28, 2006
Average Customer Review:

For Bulk Orders Call: 626-441-2024

Description and Reviews
From
The Publisher:
Becoming Complete in the Four Crucial Dimensions of Manhood
This hurting world has a desperate shortage of strong leaders and dedicated fathers. Here in the 21st century, we need men who are fearlessly committed to godliness, righteousness and excellence.First and foremost, we need a role model. We need a man with the vision, credentials and biblical mandate to help lead this movement of God. But where can we find such a leader, warrior and father?
Pat Williams found him. His name is Asher. Tucked away in the middle of a long list of Old Testament genealogies is a clear description of how one man can leave a positive, permanent and significant imprint on not just one generation, but on thousands of sons, grandsons and great-grandsons.
In 1 Chronicles 7:40, after listing dozens of offspring, there unfolds a stunning description of the legacy of one man. "All these were descendants of Asher - heads of families, choice men, brave warriors, and outstanding leaders. The number of men ready for battle, as listed in their genealogy, was 26,000."
Just imagine. Asher begat 26,000 incredible men: dedicated fathers, choice men of great character, courageous warriors and superlative leaders.
How did Asher do it? How can you leave that kind of legacy? It's all right here. Inside you'll discover solid biblical principles, powerful contemporary stories and an imaginative narrative of the life of Asher. Get to know him, and maybe you'll finally meet your own "Warrior Within."
Take these principles to heart, put them to the test in your own life, and become the warrior God created you to be.

About the Author
Pat Williams
is senior vice president and cofounder of the Orlando Magic NBA team. Pat has been involved in professional sports for 44 years and has been affiliated with NBA teams in Chicago, Atlanta and Philadelphia, including the 1983 World Champion Philadelphia 76ers. He is one of America's top motivational and inspirational speakers and the author of 37 books, including Coaching Your Kids to Be Leaders. Pat and his wife, Ruth, live in Winter Park, Florida, near Orlando. They have 19 children, including 14 adopted from 4 foreign countries.
Jim Denney
is a full-time freelance writer with over 66 published to his credit. He is the author of Answers to Satisfy and Quit your Day Job!

Find Items On Similar Subjects

What Are You Living For?
Investing Your Life in What Matter's Most

Coaching Your Kids to Be Leaders
: The Keys to Unlocking Their Potential