The Provocateur
: How a New Generation of Leaders are Building Communities, Not Just Companies
arry Weber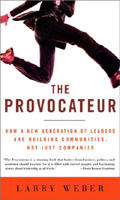 Format:
Hardcover , 288pp.
ISBN:
9780609608265
Publisher:
Crown Business
Pub. Date:
January 2 2002
Average Customer Review:

For Bulk Orders Call: 626-441-2024

Description and Reviews
From
The Publisher:
What's the difference between CEOs like Lou Gerstner of IBM and Larry Ellison of Oracle? Between basketball coaches Phil Jackson and Bobby Knight? Or media entrepreneurs Oprah Winfrey and Rupert Murdoch?
Gerstner, Jackson, and Winfrey are provocateurs, leaders who are successful not just because they have built a company or an organization, but because they have created a community. Provocateurs are changing both the form and the content of leadership and are in sync with a world being turned upside down by technology, the global economy, and the social landscape.
Success has traditionally been based on command and control, and the model for many leaders was the general who marshaled people and resources to get the product out the door and onto the shelf.
Early in his career, Larry Weber had the opportunity to meet or work with people like Mitch Kapor, the founder of Lotus, and Steve Jobs, the cofounder of Apple. He saw that they were more like the leaders of rock bands (or the directors of theater groups or circus ringmasters), who encourage innovation and individuality. A rock band does have a leader—think of Mick Jagger and the Rolling Stones—but one who promotes the group and encourages individuality. And when a rival band comes to town, it's not cause for head-to-head competition but an opportunity to increase the size of the pie by creating more fans, or customers, for their genre of music.
Provocateurs think and act differently because they put the customer at the center of everything. They are:
Educators like Patrick McGovern, who built IDG into a publishing and research powerhouse by empowering his employees to think globally and act locally;
Entertainers like Jeff Taylor, who managed to build a bond with Monster.com employees and customers through talent and charisma;
Sherpas like Rick Wagoner, who is guiding General Motors into new territories;
Concierges like Lou Gerstner of IBM, who believe the product is important but so are customer service, delivery, financing, and every other element. They keep everything running smoothly from check-in to check-out.
So, if someone says, "Your company is like a circus," Larry Weber wants you to take it as a compliment. After all, who wouldn't want to be compared with Cirque du Soleil, an organization that combines creativity, artistry, and caring for its people with success and profit. The people running organizations like this circus are provocateurs at the cutting edge of business.

Reviews
"Timeless entrepreneurial wisdom, company-building management tips, hard-nosed Internet savvy, and a hard jolt for aspiring 21st-century leaders."
—Jim Mullen, founder, Mullen Advertising
"The generals of the mass marketing business world are at a loss when it comes to surviving and prospering at a time when customer relationships—not product—create wealth. The new Relationship Age requires new leaders. Now Larry Weber has provided a marvelously useful road map for tomorrow's business leaders to follow. The Provocateur provides the answer to how a new generation of 247 managers can handle the challenging trade-off between control and creativity. Whether you are the leader of a company or of a project team within the company, you can profit greatly from the skills spotlighted in this brilliant, insightful, and very enjoyable book."
—Stan Rapp, coauthor, Max-e-Marketing in the Net Future and The MaxiMarketing Trilogy
"Larry's experience of more than two decades interacting with most of the important business and educational leaders of our time lends The Provocateur an air of practical reality that blends thoroughly with the brilliance of its vision. It should be required reading for all current and aspiring CEOs, and those that work for the good and the bad."
—Bruce Journey, CEO and publisher, Technology Review

About the Author
Larry Weber
, widely recognized as a visionary in the converging worlds of technology and communications, is the founder of the world's largest public relations firm, Weber Shandwick Worldwide. He is also chairman and CEO of the Advanced Marketing Services group at The Interpublic Group of Companies, the world's largest organization of marketing communications and services companies. Mr. Weber is a founder and chairman of the board of directors of the Massachusetts Interactive Media Council and he sits on the boards of several technology start-ups and nonprofit organizations, including The Boston Symphony Orchestra, The Museum of Science, and the Council on Competitiveness.

Find Items On Similar Subjects

Don't Kill the Bosses!
: Escaping the Hierarchy Trap