The Power of Charm
: How to Win Anyone over in Any Situation
Brian Tracy and Ron Arden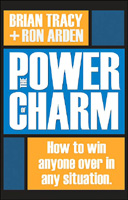 Format:
Hardcover, 138pp.
ISBN:
9780814473573
Publisher:
AMACOM
Pub. Date:
March 3, 2006
Average Customer Review:

For Bulk Orders Call: 626-441-2024

Description and Reviews
From
The Publisher:
As one of the world's premier business consultants and personal success experts, Brian Tracy has devoted his life to helping others achieve things they never dreamed possible. Now, in his latest book, he gives readers the key they need to open any door...and get whatever they want, every time.
The Power of Charm
gives readers proven ways to become more captivating--and persuasive--in any situation. With his trademark directness, Tracy shows readers what charm can do, and how they can use simple methods to immediately become more charming and dramatically improve their social lives and business relationships. Readers will learn how to:
capture people's trust and attention within the first few seconds of meeting
win the support of others who can help them achieve their goals
master body language and advanced listening techniques
sell more of their products or services
deliver powerful and engaging talks and presentations
improve their negotiation skills
get paid more and promoted faster
With
The Power of Charm
, readers will develop greater confidence and self-esteem and learn how to naturally create rhythm and harmony with others. It's a unique and powerful guide filled with proven techniques for making dreams come true--in business and in life!
What is the single most important quality to possess when trying to win someone over, whether in business or in your personal life? It's charm--the ability to create extraordinary rapport with anyone, and make him or her feel truly exceptional in your presence.
You might think that you need to be "born" with charm, but although some people seem to come by it naturally, charm is something that you can learn. As one of the world's premier authorities on personal and professional success, Brian Tracy has helped thousands and thousands of people achieve results they never dreamed possible--wealth, career success, rewarding relationships, and more--all of which depend on charm. In this incredibly powerful book, Brian reveals what charm can do, and what you can do to become more charming--instantly!
The Power of Charm
explains exactly how the most charming people do all of these things, from interacting with customers and clients to achieving deeper levels of empathy and understanding with friends and loved ones. You'll even find specific methods to apply when charming a woman or a man.
No matter how skilled, smart, or experienced you may be, 85 percent of your ability to succeed at anything depends on your ability to win people over, to convince them--to charm them. The Power of Charm presents proven, easily learned techniques for being more charming in any situation. Apply these secrets in every aspect of your life and you'll soon find yourself able to open any door and get what you want--every time.

Reviews
"This amazing book teaches you how to uncover the 'charm' that is hidden inside you...and then how to turn that charm into wealth.
—Robert G. Allen, author of the New York Times best-selling Multiple Streams of Income
"Brian Tracy has done it again, this time with superstar presentation coach Ron Arden. This book is right on target. Master The Power of Charm and become the master of building rapport with anyone."
—Dr. Tony Alessandra, author of Charisma and The Platinum Rule
"In today's world of instant everything, it's easy to forget the most important key to success. It's your reputation. What people think of you is a result of the charm you exude not only in their presence but also during all the events of your life. Read and benefit from the lessons contained in these pages for mastering the element of charm!"
—Tom Hopkins, master sales trainer; author, How to Master the Art of Selling

About the Authors
Brian Tracy
(Solana Beach, CA) is one of the world's most successful speakers and consultants on personal and professional development. He is the author of many books, including Focal Point, Be a Sales Superstar, Create Your Own Future, Eat That Frog! and Goals.
Ron Arden
(San Diego, CA), a former actor and director, is a top-flight coach of professional speakers.

Find Items On Similar Subjects

Crunch Point
: The 21 Secrets to Succeeding When It Matters Most